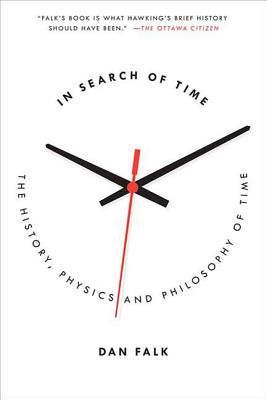 In Search of Time (Paperback)
The History, Physics, and Philosophy of Time
St. Martin's Griffin, 9780312603519, 352pp.
Publication Date: January 5, 2010
Other Editions of This Title:
Hardcover (11/11/2008)
* Individual store prices may vary.
Description
Time surrounds us. It defines our experience of the world; it echoes through our every waking hour. Time is the very foundation of conscious experience. Yet as familiar as it is, time is also deeply mysterious. We cannot see, hear, smell, taste, or touch it. Yet we do feel it—or at least we think we feel it. No wonder poets, writers, philosophers, and scientists have grappled with time for centuries.
In his latest book, award-winning science writer Dan Falk chronicles the story of how humans have come to understand time over the millennia, and by drawing from the latest research in physics, psychology, and other fields, Falk shows how that understanding continues to evolve. In Search of Time begins with our earliest ancestors' perception of time and the discoveries that led—with much effort—to the Gregorian calendar, atomic clocks, and "leap seconds." Falk examines the workings of memory, the brain's remarkable "bridge across time," and asks whether humans are unique in their ability to recall the past and imagine the future. He explores the possibility of time travel, and the paradoxes it seems to entail. Falk looks at the quest to comprehend the beginning of time and how time—and the universe—may end. Finally, he examines the puzzle of time's "flow," and the remarkable possibility that the passage of time may be an illusion.
Entertaining, illuminating, and ultimately thought provoking, In Search of Time reveals what some of our most insightful thinkers have had to say about time, from Aristotle to Kant, from Newton to Einstein, and continuing with the brightest minds of today.
About the Author
Dan Falk has written about science for The Boston Globe, The Globe and Mail, The Walrus, Astronomy, Nature, and New Scientist, and has been a regular contributor to the CBC Radio programs Ideas and Quirks and Quarks. His awards include a Gold Medal for Radio Programming from the New York Festivals and the Science Writing Award in Physics and Astronomy from the American Institute of Physics. His first book, Universe on a T-Shirt, won the 2002 Science in Society Journalism Award from the Canadian Science Writers' Association. He is also the author of In Search of Time. He lives in Toronto, Canada.
Praise For In Search of Time: The History, Physics, and Philosophy of Time…
"Falk's book is what Hawking's Brief History should have been." —The Ottawa Citizen
"In this thoroughly readable, broad-sweeping and thought-provoking book, Falk surveys humanity's attempts to record and understand time, and poses some fascinating questions." —New Scientist magazine
"An engaging writer who fearlessly tackles potentially brain-freezing topics." —San Francisco Chronicle
"Falk selects, organizes and interprets a mass of lore for our enlightenment and pleasure. We owe him." —Scientific American
"Falk is a great writer." —BBC Focus
"Falk seamlessly combines science with literary and philosophical observations...and digresses to fascinating topics like root notions of past and future, the vagaries of memory and the behavior of birds at breakfast time." —Publishers Weekly (starred review)
"Dan Falk is a riveting writer: his latest book is almost unputdownable. He covers an eclectic range of fascinating topics--from prehistory to the far future. Time is a mysterious commodity: we gain, spend, save, and lose it. But everyone should make enough time to read In Search of Time." —Martin J. Rees, author of Just Six Numbers and Our Final Hour
"Mixing simple explanation and personal profiles with touches of philosophy and whimsy, T-Shirt gives a highly accessible introduction to some tough and important physics." —American Scientist on UNIVERSE ON A T-SHIRT
"Crisply written, well researched." —Sky & Telescope on UNIVERSE ON A T-SHIRT
"[Falk] has a wonderful gift for finding helpful analogies and for writing about science in a way that is accessible without sounding dumbed down." —Booklist on UNIVERSE ON A T-SHIRT
"Falk endorses the idea that the best hope for a so-called theory of everything is in string theory, a difficult area of science that Falk nevertheless deftly unravels for the uninitiated." —Science News on UNIVERSE ON A T-SHIRT
"Falk delivers a readable, entertaining, and fresh take on the subject. Most significant, he has achieved something original: more cleverly and cleanly than anything I can recall reading, the book itself unifies the story of the search for unifying principles in science." —The Globe and Mail on UNIVERSE ON A T-SHIRT