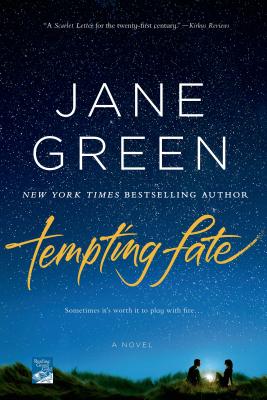 Tempting Fate (Paperback)
A Novel
St. Martin's Griffin, 9780312604189, 384pp.
Publication Date: November 4, 2014
* Individual store prices may vary.
Description
From the New York Times bestselling author of such beloved novels as Jemima J, The Beach House, and Another Piece of My Heart comes an enthralling and emotional story about how much we really understand the temptations that can threaten even the most idyllic of relationships….
Gabby and Elliott have been happily married for eighteen years. They have two teenaged daughters. They have built a life together. Forty-three year old Gabby is the last person to have an affair. She can't relate to the way her friends desperately try to cling to the beauty and allure of their younger years…And yet she too knows her youth is quickly slipping away. She could never imagine how good it would feel to have a handsome younger man show interest in her—until the night it happens. Matt makes Gabby feel sparkling, fascinating, alive—something she hasn't felt in years. What begins as a long-distance friendship soon develops into an emotional affair as Gabby discovers her limits and boundaries are not where she expects them to be. Intoxicated, she has no choice but to step ever deeper into the allure of attraction and attention, never foreseeing the life-changing consequences that lie ahead. If she makes one wrong move she could lose everything—and find out what really matters most.
A heartfelt and complex story, Tempting Fate will have readers gripped until they reach the very last page and have them thinking about the characters long after they put the book down.
About the Author
A former feature writer for the Daily Express in the UK, Jane Green took a leap of faith when she left, in 1996, to freelance and work on a novel. Seven months later, there was a bidding war for her first book, Straight Talking, the saga of a single career girl looking for the right man. The novel was a hit in England, and Green was an overnight success. She's since written many bestselling novels including The Beach House, Second Chance, Jemima J, and Tempting Fate. Most weekends see her cooking for a minimum of twenty people in her home in Westport, Connecticut, where she lives with her husband and their blended family. When she is not writing, cooking, filling her house with friends and looking after their animals, she is usually thanking the Lord for caffeine-filled energy drinks.
Praise For Tempting Fate: A Novel…
"A Scarlet Letter for the twenty-first century." —Kirkus Reviews
"Captivating" —Booklist
"Green once more proves her skill at exploring the complexities of the human heart. This is a sure bet for her fans and new readers who enjoy well-written women's fiction." —Library Journal, starred review
"Green skillfully depicts a woman trapped between contentment and temptation, crafting an insightful look into married life and middle age." —Publishers Weekly
"If you're in the mood for a juicy, heartbreaking page-turner, you should definitely give it a try." —OKMagazine.com
"Likely to stir debate and lively book club discussions." —Danbury News Times
"Her compelling tale reflects an understanding of contemporary women that's acute and compassionate, served up with style." —People magazine