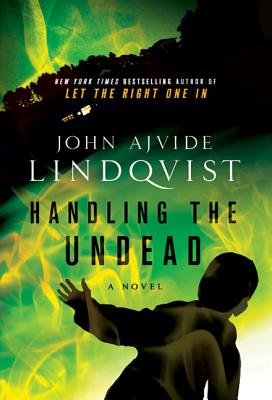 Handling the Undead (Paperback)
Griffin, 9780312604523, 376pp.
Publication Date: August 30, 2011
Description
"John Ajvide Lindqvist is a master philosopher of the horror genre." --"Washington Post Book World "
Zombies and human clash in this horror novel by the author of the international bestseller "Let the Right One In," for which he wrote the screenplay for the the Swedish smash hit film of the same name, which some critics (see below) have called the best vampire film ever made. John Ajvide Lindqvist has reinvented the vampire genre. Now he's taken on zombies, and readers everywhere will find themselves utterly consumed by "Handling the Undead. "
Something peculiar is happening. While the city is enduring a heat wave, people are finding that their electric appliances won't stay switched off. And everyone has a blinding headache. Then the terrible news breaks in the city morgue, the newly dead are waking.
David always knew his wife was far too good for him. But he never know how lost he'd be without her until the night she died. Now she's gone and he's alone. But when he goes to identify her body, she opens her eye
Across the city, grieving families find themselves able to see their loved ones one last time. But are these creatures really them? How long can this last? And what deadly price will they have to pay for the chance to see their spouses and children just one more time?
About the Author
John Ajvide Lindqvist is the author of Let the Right One In and Handling the Undead. Let The Right One In, his debut novel, was an instant bestseller in Sweden and was named Best Novel in Translation 2005 in Norway. The Swedish film adaptation, directed by Tomas Alfredsson, has won top honors at film festivals all over the globe, including Best Narrative Feature at the Tribeca Film Festival. An American remake, Let Me In, written and directed by Cloverfield director Matt Reeves, was released in October 2010 to rave reviews. Lindqvist grew up in Blackeberg, a suburb of Stockholm and the setting for Let the Right One In. Wanting to become something awful and fantastic, he first became a conjurer, and then was a stand-up comedian for twelve years. He has also written for Swedish television. He lives in Sweden.
Praise For Handling the Undead…
"A unique and humanistic take on the undead that has a place alongside thoughtful horror novels like World War Z." --Kirkus Reviews (starred)  
"The first fresh take on the zombie since [Dawn of the Dead]." --Chud.com
"Shivers the spine and hooks the heart." --Hellnotes.com  
"Lindqvist is giving us new kinds of monsters." -- PopMatters.com  
"Sophisticated horror that takes the genre to new and exciting levels." --Suspense Magazine
"A unique standout." --Fright.com
"Will entice longtime zombie fans eager for a subversive examination of some of the horror genre's most recognizable monsters." -- Publishers Weekly
Advertisement