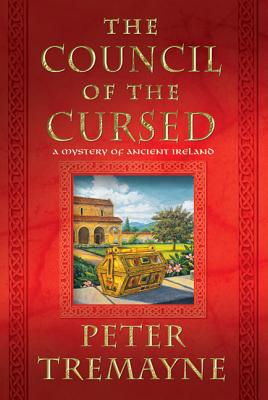 The Council of the Cursed: A Mystery of Ancient Ireland (Paperback)
A Mystery of Ancient Ireland
Minotaur Books, 9780312604936, 307pp.
Publication Date: November 23, 2010
Description
In A.D. 670 Fidelma of Cashel is asked to act as an advisor to the Irish delegation to a hostile church council. In an abbey in Burgundy, Bishop Leodegar of Autun has assembled church leaders from all over western Europe, intending to use the council to deliver a death blow to the Celtic Church. But his plans are threatened when one of the delgates is found murdered, his skull crushed.
Fidelma and her husband, Brother Eadulf, are suddenly in the midst of a murder investigation involving some of the most powerful religious leaders. The duo soon find that between the autocratic Bishop Leodegar and the malignant abbess, Mother Audofleda, a web of sinister intrigue is spreading throughout the abbey. And murder is only the beginning. The theft of a priceless reliquary box, the disappearance of local women and children, and the concurrent rumors of a slave trade all combine to make this one of the most diabolical puzzles that Fidelma and Eadulf have ever faced.
About the Author
PETER TREMAYNE is best known for his stories and novels featuring Fidelma of Cashel. He lives in London.
Praise For The Council of the Cursed: A Mystery of Ancient Ireland…
"Tremayne's seamless blend of church history ... and political squabbles ... provide meaty background. Fidelma's ability to best opponents, whether in argument, strategy or audacity, makes her a heroine for any age."
--Publishers Weekly "One of Fidelma's best."
--Kirkus Reviews "No one can make the seventh century come so alive as the pseudonymous Tremayne.... His entire series is great for book discussions, and devotees of medieval historicals will enjoy."
--Library Journal 
Advertisement