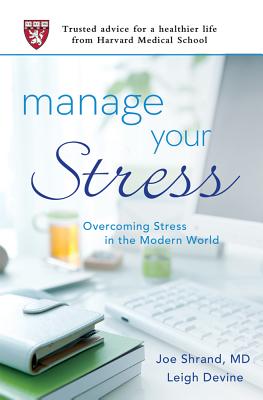 Manage Your Stress (Paperback)
Overcoming Stress in the Modern World
St. Martin's Griffin, 9780312605797, 272pp.
Publication Date: July 3, 2012
* Individual store prices may vary.
Description
This book aims to give readers a full understanding of the how and why of the human stress response. While once a vital ancient survival tool, our biological stress response may now be in overdrive when confronted by the modern world around us. Research has repeatedly shown that stress can cause physical illness if undetected and unmanaged.
And is not always your stress that gets in the way of your success and happiness. Usually it is someone else's stress that gets in the way of your success and happiness. What can you do to help someone else with their stress so you can both be more successful?
Dr. Shrand addresses the deeper biological and survival reasons we experience stress, exploring ways to relieve your own stress but at the same time breaking new ground when he demonstrates how helping someone else with their stress actually helps you to be more successful -- because you are seen as benefactor, a person of value.
The underlying biological roots of stress have to do with survival -- we feel stress when we worry we are inadequate to the task ahead of us. If we feel inadequate can we still retain our value to the group on which we depend, or will be cast out to fend for ourselves in a world of predators. Managing your stress in the modern-day world has to include managing the stress of those around you, and this book will show you how!
This book provides readers with psychological and physical strategies necessary to keep stress from undermining their health, their joy, and the happiness of those around them. These simple and practical strategies help relieve our stress, and the stress of those around us.
About the Author
JOE SHRAND, M.D., is an Instructor of Psychiatry at Harvard Medical School, an Assistant Child Psychiatrist on the medical staff of Massachusetts General Hospital, and the Medical Director of CASTLE (Clean and Sober Teens Living Empowered), a brand new intervention unit for at-risk teens which is part of the highly respected High Point Treatment Center in Brockton, MA. Dr. Shrand has served as Medical Director of the Child and Adolescent outpatient program at McLean Hospital, has run several inpatient psychiatric units, and is currently also the Medical Director of the Adult Inpatient Psychiatric Unit for High Point Treatment Centers in Plymouth. He is also the Medical Director of Road to Responsibility, a community based program that tends to adults with significant developmental disability.

Leigh Devine is an independent producer/director and writer. She has created a wide array of award-winning educational, entertainment, commercial programs and documentaries- always with the goal of enabling viewers to learn about their world. She wrote and produced medical programs for Lifetime Television's "This Week in the New England Journal of Medicine." Later, she became a health producer and on-camera reporter for Medical News Network, a division of Whittle Communications.
or
Not Currently Available for Direct Purchase