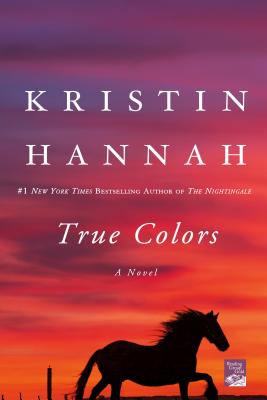 True Colors
A Novel
Paperback

* Individual store prices may vary.
Other Editions of This Title:
Digital Audiobook (2/2/2009)
Hardcover, Large Print, Large Print (3/1/2009)
Compact Disc (6/28/2016)
Compact Disc (3/1/2015)
MP3 CD (6/28/2016)
MP3 CD (2/1/2009)
MP3 CD (3/1/2015)
Hardcover (2/3/2009)
Paperback (5/22/2012)
Compact Disc (2/1/2009)
MP3 CD (2/3/2009)
Compact Disc (2/3/2009)
MP3 CD (5/22/2012)
Compact Disc (5/22/2012)
Description
Women across America laughed, cried, and reconnected with their friends after reading Kristin Hannah's smash hit, Firefly Lane. Now, in True Colors, she explores the poignant, powerful, complex world of sisters…

The Grey sisters had only each other when their mother died years ago. Their stern, unyielding father gave them almost no attention. Winona, the oldest, needs her father's approval most of all. An overweight dreamer, she never felt at home on the sprawling horse ranch that had been in her family for three generations. Aurora, the middle, is the peacemaker. Vivi Ann, the youngest, is the undisputed star of the family. Everything comes easily to Vivi Ann, her father's love most of all. But when Vivi Ann makes a fateful decision to follow her heart, rather than take the route of a dutiful daughter, events are set in motion that will test the love and loyalties of the Grey sisters. They will be pitted against each other in ways none could have imagined. Secrets will be revealed, and a terrible, shocking crime will shatter both the family and their beloved town. With breathtaking pace and penetrating insight, Kristin Hannah's True Colors is a novel about sisters, vengeance, jealousy, betrayal—and ultimately, what it truly means to be a family.
Praise For True Colors: A Novel…
"In this big juicy novel, bestselling author Hannah (Firefly Lane) scores again with a tale of three sisters set in the sprawling ranchlands of Washington state...Deliciously romantic and often heartbreaking, this is a book you'll want to climb inside of and stay as long as possible." —People 

"[Makes] full display of the author's strong suits: sense of place, compassion for characters and understanding of family dynamics." —Kirkus Reviews

"A beautiful and captivating story of love and rivalry, family and community, that readers will happily devour." —Booklist

"Hannah ... really knows what women-her characters and her audience-want." —Publishers Weekly

"An engrossing, fast-paced story that will appeal to readers of Barbara Delinsky and fans of women's fiction." —Library Journal

"Clever plot twists and complex, engaging characters make True Colors a very satisfying read." —USA Today
St. Martin's Griffin, 9780312606121, 544pp.
Publication Date: January 5, 2010
About the Author
KRISTIN HANNAH is the #1 New York Times bestselling author of more than twenty novels, including The Nightingale, The Great Alone, and The Four Winds. A former lawyer turned writer, she lives with her husband in the Pacific Northwest.
In the novel's opening scene, Henry pits one daughter against the other by simply handing one a lead rope. Winona realizes the impact of his action and knows that from then on, something in their family is changed. Does her realization change the outcome or solidify it? How does this scene reflect the central conflict in the novel? How do Henry's choices set in motion the difficulties that lie ahead?
The epigraph at the start of the novel is about passion. Why do you think the author chose this quote? How does passion, in all its many forms, lie at the very heart of True Colors?
Winona, Aurora, and Vivi Ann have similar and idealized perceptions of their mother. How has her absence affected them, separately and collectively? Conversely, each sister has a radically different perception of Henry. Who is the real Henry? Which sister has the most accurate understanding of who he is? Is Henry's antipathy toward his daughters subject to interpretation or is he as cold and uncaring as he appears?
There is obviously a symbiotic relationship between person and place in this novel. What part does the small town setting play in the novel? Could this story have taken place in a big city? What would have played out differently, in your opinion? What would have remained the same? How does the setting reflect the differences between Vivi Ann and Winona? Certainly it appears at first glance that Vivi Ann is more rooted at Water's Edge and in Oyster Shores than Winona. Is this really true?
The Grey sisters would have said that they were happy before Dallas came to town. Is that true? Or was Winona right at fifteen when she observed that "from then on, jealousy had become an undercurrent, swirling beneath their lives"? Was Dallas actually the cause of their troubles? Was Luke? Or was the disintegration of the family inevitable? Who is most to blame for the bad things that happen to the Grey family?
How do Winona's weaknesses and vulnerabilities play into the story? How do her strengths? Do you see her as a likeable character? A good sister?
How about Vivi Ann? In what way is she really the architect of her own life? How do her strengths and weaknesses allow for all of the good and bad things in the novel to happen? How would this story have been changed by honesty between the sisters from the beginning?
There are several moments in the story when Winona makes difficult choices. Was she right to tell Luke about Vivi Ann's affair? Should she have represented Dallas at his first trial? Did she deny the case for personal or professional reasons?
Noah becomes the first true catalyst for change in the Grey family. Like Vivi Ann, Aurora, and Winona, he has grown up in the shadow of loss. He is a fatherless boy; they are motherless girls. How has Vivi Ann's parenting hurt Noah and set him on his self destructive path? Is Vivi Ann's downfall understandable? Regrettable? Unacceptable? If she had been your sister, what would you have done to help her deal with Dallas's imprisonment?
Do you understand Dallas? Or did he remain enigmatic throughout the story? Did your belief in his guilt or innocence change throughout the course of the novel? How much did he contribute to his own legal problems? How did Vivi Ann contribute to them? When did he fall in love with Vivi Ann, and why?
Prejudice is an important component of the story. In small, close-knit communities like Oyster Shores, it can often be difficult to be perceived as an outsider. How much of Dallas's arrest depends upon prejudice? Would he have been arrested as quickly if he'd been "one of them?" What if he had been white? How much did his own bad reputation in town work against him?
Eyewitness testimony is often unreliable. This is especially true for minorities and people of color. Why do you think this is? What should we, as a society, do about it? Was Myrtle mistaken in her testimony? Did she lie? Did she simply see what she expected to see?
Was Vivi Ann wrong to give up on Dallas? Was Dallas right to ask it of her?
Discuss Henry. Does he change over the course of the story? Does he love his daughters? How did the loss of his wife contribute to the father he has become? Would he change if he could?
Think about the future. How is the Grey family changed by all that they have endured? Where do they go from here? Do Vivi, Noah, and Dallas stay at Water's Edge? What about Winona? How has she been changed by the journey she has undertaken? Is she still jealous of her sister? Desperate for her father's love? Will she stay in Oyster Shores? Should she? Will she and Luke make a future together? And what about Noah? For most of his life he's been able to blame his bad behavior on someone else. What will his life be like now that his father is home?