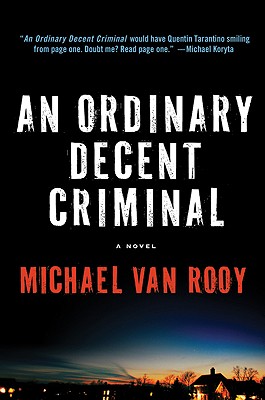 An Ordinary Decent Criminal
Hardcover

* Individual store prices may vary.
Other Editions of This Title:
Paperback (6/7/2011)
Paperback (9/1/2009)
Description
Not since Jack Reacher has there been such a quickthinking, hard-edged antihero who readers will root for against all odds All recovering drug addict and reformed thief Montgomery Haaviko wants to do is settle down with his wife and baby in their new home and work on building a straight life, one free of the day-to-day hustle and danger of being a career criminal. But for a man who's never held down a legitimate job it isn't going to be easy. When Monty foils a robbery in his new home, killing the intruders, he soon finds he has both a small-time crime boss and a star police sergeant looking for ways to ruin him, run him out of town, or kill him. It's going to take all of the tricks this streetwise ex-con has up his sleeves to prove his innocence, protect his family, and avoid the temptation of the life he left behind. Montgomery Haaviko's Tricks of the Trade:
- Be nice. Nice is good. Nice sets a standard. Then, when you get mean, the shock is strongest.
- Armored cars are owned by people with guns.
- When burglarizing a house move slowly. Then slow down. Now cut it by half. And you've got it.
- A couple of drops of crazy glue on the tips of your fingers will eliminate fingerprints.
Praise For An Ordinary Decent Criminal…
Praise for An Ordinary Decent Criminal

"A fast and funny tale about an ex-con going straight the crooked way.... Exceptionally readable entertainment." --Kirkus, starred review
"Monty Haaviko… is a very engaging protagonist and narrator with a story arc that takes him in one direction and then another, back and forth, until the tale reaches its rewarding and appropriate conclusion (leaving the door open, incidentally, for a sequel or two). Van Rooy is not merely a capable writer but a quite gifted one; he draws us into the story pretty much immediately and never really gives us an opportunity to turn away. Definitely a writer to watch." –Booklist
"A fairy tale worthy… of Quentin Tarantino.  Michael van Rooy… makes his hero a MacGyver of crime, who spouts handy lawbreaking tips even as he creates elaborate booby traps or sets up the bad cop for a fall. He's really committed to his new life with his wife and baby, and that makes him a charming rogue instead of a smart-aleck lowlife." –The Charlotte Observer
"Van Rooy's debut novel is gritty, full of plenty of dark humor and suspense". –The Oregonian
"This witty, fast-past, edgy, action thriller will keep you cheering for the bad guy in this debut novel from Canadian author, Michael Van Rooy." --DamnedInsatiableThirstEternalLanguor.blogspot.com
"If you like your crime novels hard-boiled with plenty of wry, dark humor and unpredictable twists, you should read Van Rooy.  You won't be disappointed." --CarusoNoir.wordpress.com
"Astonishingly good…funny, fast-paced and so hugely compelling it's hard to put down. Van Rooy has all the elements—a terrific protagonist, a twisting plot and a writing style that snaps along." –Winnipeg Free Press (Canada)

"A commentary on justice and vengeance, and a handbook on criminal practice in a fun-packed, eminently readable romp." –Prairie Fire Magazine
"Michael Van Rooy is one of those few writers who really stand out in a genre otherwise flooded with mediocre books. His protagonist is as tough as any character I've ever read, but he also has smarts and a huge heart. This is truly one of the best books I've read all year. Michael Van Rooy is Canada's best-kept secret in crime fiction." –Steve Hamilton, Edgar Award-winning author of The Lock Artist
"If you're looking for a gritty action novel laced with quotable lines and splattered with blood, you may now stop your search. An Ordinary Decent Criminal would have Quentin Tarantino smiling from page one. Doubt me? Read page one. Michael Van Rooy just might be Canada's contemporary answer to the great Donald Westlake and Jim Thompson." –Michael Koryta, author of So Cold the River
"Extraordinary writing… Van Rooy has created a contemporary hero who defines an individual's struggle against the weight of a society that has judged and found irredeemable. Admittedly, a career criminal yearning for the straight life may be an anomaly, but there's just something about this guy that makes you want him to succeed. And that's thanks to this author's stellar storytelling and appreciation of the changeableness of the human heart." –CurledUp.com
"Canadian author Michael Van Rooy introduces an appealing antihero, Montgomery Haaviko, in his debut, a gritty, offbeat suspense novel... [with] enough dark humor to please Elmore Leonard fans." --ThrillerWriters.org
Minotaur Books, 9780312606282, 288pp.
Publication Date: August 3, 2010
About the Author
MICHAEL VAN ROOY won the 2009 John Hirsch Award for Most Promising Manitoba Writer. He lives in Canada. Visit him online at MichaelVanRooy.com.
or
Not Currently Available for Direct Purchase