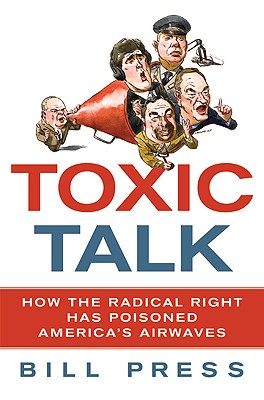 Toxic Talk: How the Radical Right Has Poisoned America's Airwaves (Hardcover)
How the Radical Right Has Poisoned America's Airwaves
Thomas Dunne Books, 9780312606299, 320pp.
Publication Date: May 25, 2010
* Individual store prices may vary.
or
Not Currently Available for Direct Purchase
Description
A timely cannon blast at the right-wing media machine and how it subverts the principles of democratic representation
Talk radio has done an end run around the voting populace. With Rush Limbaugh now the unofficial leader of the Republican Party and the far right controlling the five major syndicates, conservatives have a disproportionate voice in the medium—even in liberal cities such as New York, Boston, and San Francisco. Writing with his characteristic and incisive wit, Bill Press exposes the destructive power of Rush, Glenn Beck, Mark Levin, Sean Hannity, Michael Savage, Bill O'Reilly, and the other polarizing figures of talk radio who dominate 90% of the political airwaves today. Citing their own words as evidence, Press brilliantly makes the case that much of what is broadcast on radio and television today is—at best—distorted and partisan, and—at worst—lies, propaganda and bigotry sold by these talented modern-day pitchmen who have followings in the millions.
About the Author
BILL PRESS is host of the nationally syndicated "Bill Press Show," also on Sirius XM, and writes a syndicated column for Tribune Media Services. He is the former co-host of MSNBC's "Buchanan and Press "and CNN's "Crossfire "and "The Spin Room." Press lives in Washington, D.C.
Praise For Toxic Talk: How the Radical Right Has Poisoned America's Airwaves…
ADVANCE PRAISE for TOXIC TALK
"Mr. Press charges Rush Limbaugh and other conservative radio talk-show hosts with employing ugly rhetoric, dirty tactics and outright lies to build their audiences and advance their political agendas. In the process, he argues, the radio talkers have coarsened the political debate and diminished opportunities for bipartisanship."--The Wall Street Journal
"For far too long, conservatives were the only voices heard on talk radio. But no longer. Now there's a whole community of strong and dynamic progressive voices on the airwaves. As Bill Press shows, progressive radio is alive, well, and growing!"—Congressman James E. Clyburn, House Majority Whip
"Good for Bill Press! Finally, somebody exposes that gang of right-wing talk show hosts for the hate-mongers they are. If you want to know how much damage Rush Limbaugh and his clones have done to free speech, read this book!"—Ed Schultz, host of The Ed Schultz Show
"I poke fun at the 'right-wing world' on my own radio show every day. But Bill Press shows us that the world of right-wing talk is not only stupid, it's dangerous. I dare Glenn Beck and Sean Hannity to read this book. If they ever did, they would immediately resign in shame!"—Stephanie Miller, host of The Stephanie Miller Show
"Finally, a bare knuckled challenge to those bullies on talk radio who invent their own truths. Bill Press is a progressive breath of fresh air."—Senator Byron Dorgan
"For too long, talk radio was the exclusive playhouse of right-wing extremists. No longer. Now, we see them exposed for what Bill Press rightly calls them, toxic talkers. We also see the promise, from a progressive perspective, of more and more strong truth-tellers."—Senator Bernie Sanders
PRAISE for HOW THE REPUBLICANS STOLE RELIGION:
"Bill Press writes the way he talks: with wit, spiritual conviction and political passion."
—Lydia Howell, Pulse of the Twin Cities
"Impassioned, entertaining and sure to please . . .  thoughtfully reminds readers how and why religion and government need to be protected from each other in order to flourish."
—
Publishers Weekly
"This thoughtful look at religion and politics in America will interest even those who may not agree with its premises."
—
Booklist
"The movement toward a theocratic America has a new obstacle: Bill Press's articulate defense of real religious freedom."
—The Rev. Barry Lynn, Executive Director, Americans United for Separation of Church and State

"God bless Bill Press. This former seminarian and former California Democratic Party chair has the courage, theological training, and moral clarity needed to point out both the deep spiritual values of the left and the hypocrisy of some on the far right. Hallelujah, Brother Bill!"
—Paul Begala, Cohost, CNN's The Situation Room
PRAISE for SPIN THIS!:
"A witty exploration."
—
The Tampa Tribune

"Fascinating."
—U.S. News & World Report
Advertisement