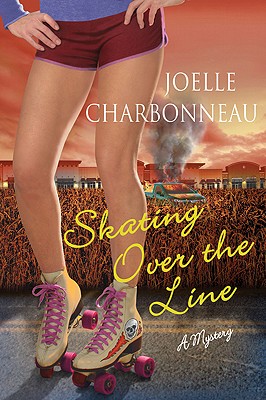 Skating Over the Line
A Mystery
Hardcover

* Individual store prices may vary.
Description
Rebecca Robbins is desperate to sell her inherited roller-skating rink in small-town Indian Falls, and---finally---she has a buyer. She can't wait to head back to Chicago, especially now that her long delinquent father has blown back into town, but Lionel, her veterinarian boyfriend, thinks she should stay put. Also, the gang at the Senior Center wants her to track down the thief who's been hot-wiring rusted-out classic cars.
Unable to resist, Rebecca soon has the Sheriff's Deputy threatening to arrest her for obstruction, and strange but scary men threatening her life. Then cars start exploding, with people in them, and Rebecca's father goes missing. With the help of Pop, her Elvis-impersonating grandfather, Rebecca must find the pyromaniac car thief and put a stop to him---before he stops her first.
"Skating Over the Line" is the second novel in a delightful cozy series filled with small town charm and delicious laughs.
Praise For Skating Over the Line: A Mystery…
"Rebecca's second (Skating Around the Law, 2010) features the Midwest's laid-back answer to Stephanie Plum in another funny, spunky romp."--Kirkus Reviews
"Light and breezy, Charbonneau's sophomore entry holds up. Her humor mixed with an eccentric cast keeps the mystery rolling at a steady clip. With this title's romantic triangle not unlike Janet Evanovich's trio of Stephanie Plum, Ranger, and Joe Morelli, and relatives reminiscent of those in books by Rita Lakin or Deborah Sharp, you've got another humorous series at the ready."--Library Journal
"Charbonneau's sequel to 2010's Skating Around the Law offers just the right mix of skullduggery, humor, mystery, and romance....Readers will enjoy the ride, and they'll really love Elwood, Lionel's retired circus camel."--Publishers Weekly "The charming denizens of Indian Falls are back....The supporting characters...would steal the show if not for the mystery that needs to be solved--and the escalating danger."--RT Book Reviews "A visit to Indian Falls is time superbly spent. Filled with delightful citizens, including grandfather Pop, an Elvis impersonator and hugely warm character, this loving close-knit community embraces you from the first page. Joelle Charbonneau has a fresh and lively and insightful voice, and she has created characters we'd love as friends. This is a wonderfully fun read."--Louise Penny, New York Times bestselling author of A Trick of the Light
Minotaur Books, 9780312606626, 288pp.
Publication Date: September 27, 2011
About the Author
Joelle Charbonneau has worked as a professional singer and actress and currently is a private voice instructor. Joelle lives with her husband and son in Illinois.
or
Not Currently Available for Direct Purchase