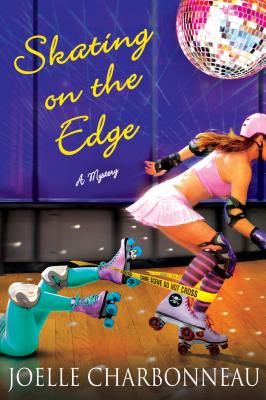 Skating on the Edge
A Mystery (Rebecca Robbins Mysteries #3)
Hardcover

* Individual store prices may vary.
Description
Rebecca Robbins, owner of the Toe Stop roller-skating rink, is back, this time joined by a tough and sassy roller derby team, and she has a new puzzling murder to solve.
It's Native American Summer Days in Indian Falls, and Rebecca is roped into taking a turn in the Senior Center dunk tank. That is, until her rhinestone-studded grandfather, Pop, needs help setting up his Elvis act. Minutes from climbing into the tank, Rebecca has to find a replacement, and roller derby girl Sherlene-n-Mean is delighted to fit the bill---until she's dunked, electrocuted, and killed. It's obvious that this was no accident. Someone rigged the tank, but who was the intended target? Sherlene-n-Mean or Rebecca?
With a list of suspects in hand and Pop cheering her on, Rebecca starts asking questions. Who disliked Sherlene-n-Mean enough to kill her? Could a father really be capable of murdering his own daughter for money? Why has the bowling alley owner suddenly decided to call a truce and offer Rebecca his assistance? Who was Sherlene-n-Mean? Did her mysterious past catch up with her and get her killed or was she a victim of circumstance? Aided by a trio of self-appointed bodyguard derby girls and caught between Deputy Sean and her sometimes-boyfriend Lionel, Rebecca digs for answers, dodges bullets, and races to find a killer before the killer strikes again.
Joelle Charbonneau's third novel is a gem in a charming and hilarious series.
Praise For Skating on the Edge: A Mystery (Rebecca Robbins Mysteries #3)…
"Rebecca's amusing third continues to flesh out its continuing characters while providing an eccentric bunch of murder suspects." —Kirkus Reviews
"Charbonneau's fun third mystery featuring roller rink owner Rebecca Robbins...[with] genuine warmth between the characters, the fierce loyalty of the roller derby team, and the distinct thawing of Rebecca's lawman nemesis, Sean Holmes." —Publishers Weekly
Minotaur Books, 9780312606633, 304pp.
Publication Date: October 2, 2012
About the Author
Joelle Charbonneau has worked as a professional singer and actress and currently is a private voice instructor. Her mother was a national and world champion roller skater. Joelle lives with her husband and toddler son in Illinois. Her books include Skating Around the Law and Skating Over the Line.