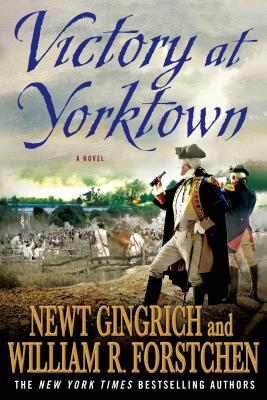 Victory at Yorktown (Paperback)
St. Martin's Press, 9780312607081, 368pp.
Publication Date: September 24, 2013
Description
New York Times bestselling authors Newt Gingrich and William R. Forstchen pen the triumphant conclusion to their George Washington series-a novel of leadership, brotherhood, loyalty, and the victory of the American Revolutionary cause.
1781. After three years in a bitter stalemate, General Washington decides to embark on one of the most audacious moves in American military history. He will take nearly his entire army out of New Jersey and New York and force march it more than three hundred miles in complete secrecy. He must pray that the French navy is successful in blockading Chesapeake Bay, so that he can fall upon British General Cornwallis at Yorktown. It is a campaign ladened with "Ifs" but the deadlock must be broken, otherwise the American spirit, after six long years of war, will crumble.
A tour de force narrative of one of America's most important heroes, Victory at Yorktown vividly portrays Washington's unparalleled courage, determination, and patriotism as he leads his professional army, once a "rabble in arms," to the heat of the Battle of Yorktown to execute the Revolution's most decisive contest.
About the Author
NEWT GINGRICH, former Speaker of the House, is the bestselling author of Gettysburg and Pearl Harbor and the longest serving teacher of the Joint War Fighting Course for Major Generals at Air University, and is an honorary Distinguished Visiting Scholar and Professor at the National Defense University. He resides in Virginia with his wife, Callista, with whom he hosts and produces documentaries, including A City Upon A Hill.WILLAIM R. FORSTCHEN, Ph.D. is a Professor of History and Faculty Fellow at Montreat College in North Carolina. His graduate work at Purdue University included specializations in Military History. Author of over forty books, he is the New York Times best selling author of One Second After and the soon to be released Pillar to the Sky.
Praise For Victory at Yorktown…
Praise for the works of Newt Gingrich and William R. Forstchen:

"Masterful storytelling." --William E. Butterworth IV, New York Times bestselling author of The Saboteurs

"Creative, clever, and fascinating." --James Carville

"Compelling narrative force and meticulous detail." --The Atlanta Journal Constitution

"Gingrich and Forschten write with authority and with sensitivity." --St. Louis Post Dispatch
"Grim, gritty, realistic, accurate, and splendid, this is a soaring epic of triumph over almost unimaginable odds."  --Library Journal on To Try Men's Souls
"With each book… Gingrich and Forstchen have gone from strength to strength as storytellers." --William Trotter, The Charlotte Observer
"The authors' research shines in accurate accounts of diplomatic maneuvering as well as the nuts-and-bolts of military action." --Publishers Weekly
"The writing is vivid and clear." --Washington Times
Advertisement