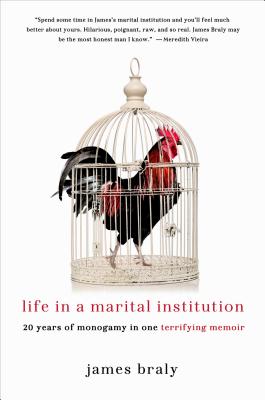 Life in a Marital Institution: Twenty Years of Monogamy in One Terrifying Memoir (Hardcover)
Twenty Years of Monogamy in One Terrifying Memoir
St. Martin's Press, 9780312607289, 278pp.
Publication Date: April 2, 2013
* Individual store prices may vary.
or
Not Currently Available for Direct Purchase
Description
LIFE IN A MARITAL INSTITUTION is a look inside the manic marriage of opposites, from the winning point of view of the husband, the "gaspingly funny" ("Variety"), "never less than excellent" ("New York Times") writer of the hit Off-Broadway show of the same name.
The marriage memoir from Elizabeth Gilbert's "Committed" to Isabel Gillies's "It Happens Every Day "" "has been a balm to beleaguered wives everywhere. But who speaks for the husbands--and tells you what you never get to hear from your girlfriends? In this sharp, funny, poignant glimpse into a very unusual marriage, sensitive, decent, shell-shocked James Braly earns the job. His marriage to a woman who is so "bewitching--"that at their very first meeting she corrects the handwriting he uses to write her prized name and number on a slip of paper is by turns fascinating and casually shocking. Thus begins a romance that includes progressive adventures in extended breastfeeding, co-sleeping, even fine dining (dinner parties whose guests include a connoisseur of human placenta: "pan roasted...in cumin").
The scenes from Braly's marriage are wrapped around the story that explains why someone chooses such a partnership to begin with: a colorful, kooky family that includes a fierce bomber pilot dad, a debutante heiress mom, and a delightfully druggy sister dying in a Houston hospice, and who'd rather be dead than married to James's wife. In other words, love is what love was--only darkly hilarious.
Braly's one-man show of the same name is currently touring the country, produced by Meredith Vieira Productions, which is developing the show for television.
About the Author
JAMES BRALY is a writer and performer who has contributed autobiographical stories to This American Life, The New York Times, and The Moth, where he is the first two-time winner of the Moth GrandSlam, and a featured performer on their national tour, podcast, radio hour, and CD collections. His Off-Broadway monologue Life in a Marital Institution sold out 59E59 Theaters in New York City, where it was reviewed as "gaspingly funny" (Variety) and "never less than excellent" (New York Times). The show is touring the country presented by Meredith Vieira Productions, which is developing it for TV. In his other lives, James writes speeches for global business leaders, and he teaches autobiographical storytelling at Fordham University.
Praise For Life in a Marital Institution: Twenty Years of Monogamy in One Terrifying Memoir…
"Braly faces down harrowing emotional hurdles with a gritty, lip-curling humor."--Publishers Weekly "Spend some time in James' marital institution and you'll feel much better about yours. Hilarious, poignant, raw, and so real. James Braly may be the most honest man I know."--Meredith Vieira
"Without a scrap of sentimentality, James Braly manages to infuse his story of life on the home front with humor, authenticity, edge and that rarest of all qualities, heart."— Joyce Maynard, author of To Die For
Advertisement