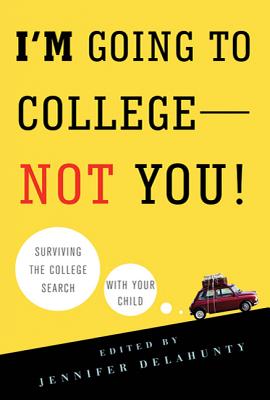 I'm Going to College---Not You!
Surviving the College Search with Your Child
Paperback

* Individual store prices may vary.
Description
Jamie Lee Curtis says: "A must-read. "

Booklist: "Parents will enjoy the humor, drama, and poignancy of this collection."

The ultimate college search guide

Acceptance by a top college is more than a gold star on a high school graduate's forehead today. It has morphed into the ultimate "good parenting" stamp of approval--the better the bumper sticker, the better the parent, right? Parents of juniors and seniors in high school fret over SAT scores and essays, obsessed with getting their kids into the right college, while their children push for independence.

I'm Going to College---Not You! is a resource for parents, written by parents who've been in their shoes. Kenyon College dean Jennifer Delahunty shares her unique perspective (and her daughter's) on one of the toughest periods of parenting, and has assembled a top-notch group of writers that includes best-selling authors, college professors and admissions directors, and journalists. Their experiences with the difficult balancing act between control freak and resource answer questions like:

--how can a parent be less of a "helicopter" (hovering) and more of a "booster rocket" (uplifting)?
--what do you do when your child wants to put off college to become a rock star?
and
--how will you keep from wanting to kill each other?

Contributors include:
Jane Hamilton
David Latt
Neal Pollack
Joe Queenan
Anne Roark
Debra Shaver
Anna Quindlen
Ellen Waterston
Praise For I'm Going to College---Not You!: Surviving the College Search with Your Child…
"A great guide and must-read for any prospective parent through the power and powerlessness of their child's college search. Mine included my selfish queries into the various schools school colors ... I then encouraged my daughter to choose the school whose colors I looked good in. I am only kidding a little. (Deep purple and black did look great on me.) I wish I had had this book then... " —Jamie Lee Curtis, actress, children's book author, mother of a recent college graduate

"As a parent and dean of admissions at Kenyon College, Delahunty has witnessed the stress of the college search and admissions process from the inside and the outside. She offers a collection of essays from both perspectives. Parents recall the process as the "last dance of parenting" because of the implication that where a child goes to college is somehow a reflection on the parent. Essays range from hilarious to painful as parents confess to being whipsawed by emotions, sometimes making the process more about themselves than their children, and mixing in memories of their own benighted college selection process. Admissions professionals, with a far broader perspective, offer calm and solid advice on how to help without taking over the process and how to find the best fit for the student. Among the contributors, reflecting on everything from the beginning application process through move-in day, are Anna Quindlen, Jane Hamilton, and theNeurotic Parent blogger as well as admissions directors of Smith and Colby colleges. Parents will enjoy the humor, drama, and poignancy of this collection." —Booklist
St. Martin's Griffin, 9780312607296, 288pp.
Publication Date: August 31, 2010
About the Author
Jennifer Delahunty has been the dean of admissions and financial aid at Kenyon College since 2003 and has worked in higher education since 1982. Her writing has been published in The New York Times, the Cleveland Plain Dealer, and the National Association of College Admissions Counselors Journal.  She attended Carleton College in Minnesota and the University of Arizona, from which she earned both her BA and an MFA in creative nonfiction. She lives in Gambier, Ohio.