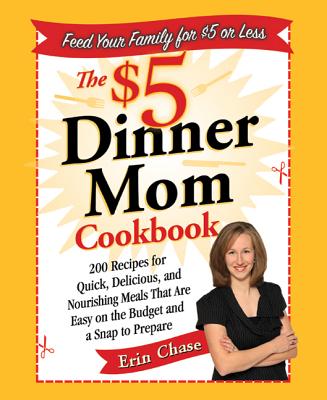 The $5 Dinner Mom Cookbook (Paperback)
200 Recipes for Quick, Delicious, and Nourishing Meals That Are Easy on the Budget and a Snap to Prepare
Griffin, 9780312607333, 304pp.
Publication Date: December 22, 2009
Description
Do you wish you were a savvy supermarket shopper who knows how to cut your weekly food budget, banish fast food from the dinner table and serve your family meals that are delicious and good for them? Well, Erin Chase, "The $5 Dinner Mom," is here to help.
Erin is the founder of "$5 Dinners," the skyrocketing internet website that's now the go-to source for families who want to eat well and stay within a budget. Erin became a supermarket savvy mom, challenged herself to create dinners for her family of four that cost no more than $5 and is here to share her fool-proof method with you in her first cookbook that contains over 200 recipes that cost $5 or less to make. First, Erin will show you how to size up the best supermarket deals, clip coupons that will really save you money and create a weekly dinner menu plan. Then, in each recipe she shows you just how much she paid for each item and challenges you to do the same.
Here are a few of her favorites:
- North Carolina Pulled Pork Sandwiches - $4.90
- Curried Pumpkin Soup - $4.41
- Apple Dijon Pork Roast - $4.30
- Orange Beef and Broccoli Stir-Fry - $4.94
- Creamy Lemon Dill Catfish - $4.95
- Bacon-Wrapped Apple Chicken - $4.96
- Country Ribs with Oven Fries - $4.77
Join the army of devoted followers who have already let Erin Chase show them how to be savvy supermarket shoppers who cook tasty, economical meals. You'll never spend more than $5 on dinner again.
About the Author
Erin Chase is the creator of www.5dollardinners.com. She has previously shared her savvy tips for saving on "The Rachael Ray Show" and "The Jean Chatzky Show" on Oprah Sirius Radio. She grew up in San Antonio, TX, went to Texas Christian University, and served as a missionary in the Dominican Republic where she met her husband. They live in Dayton, Ohio with their three children.
Praise For The $5 Dinner Mom Cookbook: 200 Recipes for Quick, Delicious, and Nourishing Meals That Are Easy on the Budget and a Snap to Prepare…
"Erin's $5 Dollar Dinner approach is ideal for my family--her recipes are simple, healthy, delicious and always affordable.  She proves that budget cooking does not have to be boring!"--Stephanie Nelson, author of The Coupon Mom's Guide to Cutting Your Grocery Bills in Half
Advertisement