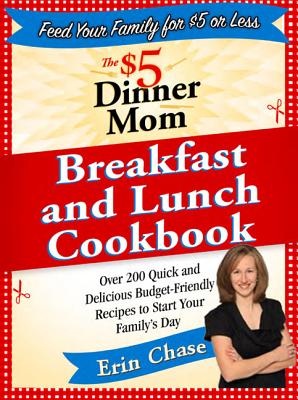 The $5 Dinner Mom Breakfast and Lunch Cookbook (Paperback)
200 Recipes for Quick, Delicious, and Nourishing Meals That Are Easy on the Budget and a Snap to Prepare
St. Martin's Griffin, 9780312607340, 336pp.
Publication Date: January 4, 2011
* Individual store prices may vary.
Description
The $5 Dollar Dinner Mom--savings guru, savvy supermarket shopper, and mommy extraordinaire Erin Chase--does it again! With the same fool proof system she used to cut your weekly food budget and put a healthy and delicious $5 meal on the dinner table for your family, she takes it one step further with "The $5 Dollar Dinner Mom Does Breakfast and Lunch". Tailoring her tips at how to size up supermarket deals, clip coupons, and create weekly menu plans, she helps you start your day the right way. With the help of Erin--whether at home or on the go--you can use all the same tools you learned in "The $5 Dollar Dinner Mom Cookbook" to create breakfasts and lunches for less than $5 that are easy and kid-friendly too!
Breakfast favorites include:
- Chocolate Chip Raspberry Pancakes
- Bacon and Egg Quesadillas
- Vanilla Almond French Toast
- Overnight Honey Nut Granola
Lunch favorites include:
- Curried Chicken Salad Sandwiches
- Swiss Tuna Melts
- Lasagna Roll-ups
- Chuckwagon Chili
And if you are wondering what to do now that breakfast, lunch and dinner are all covered, well don't worry, "The $5 Dinner Mom Does Breakfast and Lunch" also includes a bonus section for $2-4 snacks like pumpkin applesauce and oatmeal cranberry cookies to tide you over in between! Let Erin Chase show you how to have tasty, economical meals, all day, every day.
About the Author
ERIN CHASE is the author of The $5 Dinner Mom Cookbook and The $5 Dinner Mom Breakfast and Lunch Cookbook. She's appeared on The View, The Rachael Ray Show and The Jean Chatzky Show on Oprah Sirius Radio. She lives in Dayton, Ohio, with her husband and three children.
Praise For The $5 Dinner Mom Breakfast and Lunch Cookbook: 200 Recipes for Quick, Delicious, and Nourishing Meals That Are Easy on the Budget and a Snap to Prepare…
"Want to cut your grocery budget but feel overwhelmed in knowing where to begin? This book will give you the simple tools you need to become a strategic shopper, make meal-planning manageable, and rediscover the joy of cooking and baking from scratch." —Crystal Paine, founder of www.MoneySavingMom.com