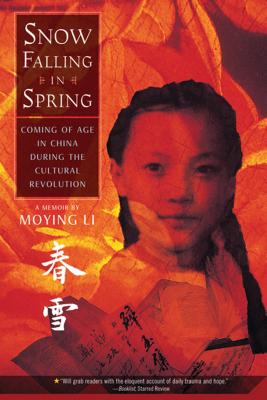 Snow Falling in Spring
Coming of Age in China During the Cultural Revolution
Paperback

* Individual store prices may vary.
Description
Most people cannot remember when their childhood ended. I, on the other hand, have a crystal-clear memory of that moment. It happened at night in the summer of 1966, when my elementary school headmaster hanged himself.

In 1966 Moying, a student at a prestigious language school in Beijing, seems destined for a promising future. Everything changes when student Red Guards begin to orchestrate brutal assaults, violent public humiliations, and forced confessions. After watching her teachers and headmasters beaten in public, Moying flees school for the safety of home, only to witness her beloved grandmother denounced, her home ransacked, her father's precious books flung onto the back of a truck, and Baba himself taken away. From labor camp, Baba entrusts a friend to deliver a reading list of banned books to Moying so that she can continue to learn. Now, with so much of her life at risk, she finds sanctuary in the world of imagination and learning.

This inspiring memoir follows Moying Li from age twelve to twenty-two, illuminating a complex, dark time in China's history as it tells the compelling story of one girl's difficult but determined coming-of-age during the Cultural Revolution.

Snow Falling in Spring is a 2009 Bank Street - Best Children's Book of the Year.
Praise For Snow Falling in Spring: Coming of Age in China During the Cultural Revolution…
"Snow Falling in Spring joins other important books about the Cultural Revolution . . . as childhood testimonies to national trauma, cautionary tales for our own time, and appreciations for homes, old and new." —The San Francisco Chronicle

"At its essence, this is a book about the value of reading--to escape, to learn, to be sustained and to grow." —The New York Times Book Review

"The simple, direct narrative will grab readers with the eloquent account of daily trauma and hope." —Booklist, Starred Review

"Li effectively builds the climate of fear that accompanies the rise of the Red Guard. . . . Sketches about her grandparents root the narrative within a broader context of Chinese traditions as well as her own family's values, establishing a basis for Li's later portrayal of the individuals around her who respond to oppression with hope and faith in knowledge and education." —Publishers Weekly, Starred Review

"Beautifully written . . . offers a somewhat broader view of a nation in turmoil and illustrates the grit and determination necessary for survival in a dysfunctional society." —School Library Journal

"The narrative will enable readers to sympathize with Li and feel relief when she leaves to study at Swarthmore College after ten years of education in China." —Kirkus Reviews

"Anyone under the impression that liberty, justice, and the pursuit of happiness is a birthright will find this book illuminating." —Peter Sís, author of The Wall
Square Fish, 9780312608675, 192pp.
Publication Date: March 16, 2010
About the Author
Moying Li grew up in Beijing, China during the tumultuous Cultural Revolution (1966-1976). During that period, Moying was primarily self-taught, following the guided lessons and reading lists her father, who had been a prominent screenwriter, was able to send to her from a "hard labor farm." In 1980, thanks to a generous scholarship and a plane ticket from Swarthmore College, Moying left Beijing where her family still lives, and traveled to the United States to pursue graduate studies, and for the next ten years she immersed herself in what she had always craved, the unrestricted pursuit of knowledge. She is the author of Snow Falling in Spring.
or
Not Currently Available for Direct Purchase