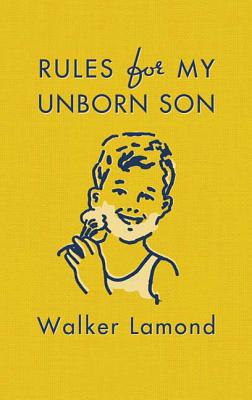 Rules for My Unborn Son (Hardcover)
St. Martin's Press, 9780312608958, 224pp.
Publication Date: October 27, 2009
* Individual store prices may vary.
Description
RULES FOR MY UNBORN SON is a collection of traditional, humorous, and urbane fatherly advice for boys. From the sartorial ("If you are tempted to wear a cowboy hat, resist") to the practical ("Keep a copy of your letters. It makes it easier for your biographer") to even a couple of sure-fire hangover cures ("There is no better remedy than a dip in the ocean"), the book of rules and accompanying quotations is quite simply an instruction manual for becoming a Good Man - industrious, thoughtful, charming, and of course, well-dressed.
Hip and witty with a decidedly traditionalist flavor, RULES FOR MY UNBORN SON is meant to evoke simpler times when Father knew best and a suitable answer to "Why?" was "Because I said so."
About the Author
Walker Lamond is a writer and television producer. His documentaries have appeared on the Discovery Channel, National Geographic Channel, TruTV, and HBO, and he has written for numerous publications including Stop Smiling magazine, Valet, Babble, and Asylum. Lamond lives in Washington, D.C. with his wife and their son, who arrived shortly after the completion of his book Rules for My Unborn Son.
Praise For Rules for My Unborn Son…
"This may be one book that actually has changed my life." —The Wall Street Journal
"Anyone out there looking for a fun, helpful read to give a new dad should check out Rules for my Unborn Son...4 and a half stars" —PARENTING.com
"A great gift for new dads." —Daily Candy
"Rules for My Unborn Son will surely be a Christmas bestseller." —Daily Telegraph