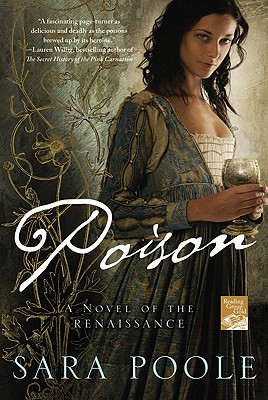 Poison (Paperback)
A Novel of the Renaissance
Griffin, 9780312609832, 392pp.
Publication Date: August 3, 2010
* Individual store prices may vary.
Description
In the simmering hot summer of 1492, a monstrous evil is stirring within the Eternal City of Rome. The brutal murder of an alchemist sets off a desperate race to uncover the plot that threatens to extinguish the light of the Renaissance and plunge Europe back into medieval darkness.
Determined to avenge the killing of her father, Francesca Giordano defies all convention to claim for herself the position of poisoner serving Cardinal Rodrigo Borgia, head of the most notorious and dangerous family in Italy. She becomes the confidante of Lucrezia Borgia and the lover of Cesare Borgia. At the same time, she is drawn to the young renegade monk who yearns to save her life and her soul.
Navigating a web of treachery and deceit, Francesca pursues her father's killer from the depths of Rome's Jewish ghetto to the heights of the Vatican itself. In so doing, she sets the stage for the ultimate confrontation with ancient forces that will seek to use her darkest desires to achieve their own catastrophic ends.
About the Author
SARA POOLE lives in Connecticut, where her discovery of the abundance of deadly flora growing just beyond her doorstep prompted her interest in the poisoner's art.
Praise For Poison: A Novel of the Renaissance…
"[A] stunning debut . . . deftly mixing historical fact and fiction."—Booklist (starred review)
"The pseudonymous Poole makes a promising debut with this fast-moving historical thriller. . . . Francesca's a genuine firecracker of a heroine, and her dilemma--is it worth her soul to exact justice for her father--plays out in a riveting fashion. Vivid, suspenseful, and capped with an ending that begs a sequel, this is a great first step on the way to the historical fiction A-list."—Publishers Weekly
"With a unique heroine, a tumultuous historical era, intrigue, suspense, a vibrant backdrop and a nonstop plotline, Poole's debut delivers a historical mystery to savor."—Romantic Times (four stars)
"A historical thriller brimming with intrigue, action and enough double-crosses to stump even the most venal of Renaissance Popes . . . a fascinating page turner as delicious and deadly as the poisons brewed up by its heroine."—Lauren Willig, bestselling author of The Secret History of the Pink Carnation
"Poison presents the most unique heroine I have ever seen in a mystery series, (a complex, angst-filled Renaissance Dexter).  But above all, what kept me riveted was the fact the plot is as much a fast-paced thriller as a compelling mystery.  (Although it is a historical, it seems amazingly modern if we substitute Wall Street financiers or national politicians for cardinals and popes.)  A deliciously deadly series debut."—Karen Harper, New York Times bestselling author of Mistress Shakespeare and The Queen's Governess (forthcoming)
"Five hundred years before the Sopranos and their hitmen, there were the Borgias and their poisoners.  From page one, Sara Poole's stunning nail-biter of an historical novel propels us into the obscene splendor, squalor, violence and corruption that is Renaissance Rome and the Vatican. . . . As one tension-racked conflict climaxes and resolves, another rears its delicious head.  But Poole's greatest achievement is fashioning protagonists who are at once murderous and amoral while entirely sympathetic, even loveable.  Her heroine Francesca may be the mistress of poisoning, but in my book, Sara Poole is the new queen of historical suspense."—Robin Maxwell, author of the award-winning Secret Diary of Anne Boleyn
 "Poison is an irresistible concoction of danger, mystery, and romance—a fast-paced thrill-ride through the darkest intrigues of Renaissance Rome. I could not put this book down!"—Jeanne Kalogridis, author of The Borgia Bride
"An impressive blend of story and history! I was hooked from the first stunning images of excess and decadence that defined the Rome of the Borgias. A complex and compelling heroine led me through the crooked streets of Rome into the bowels of a decaying St. Peter's Basilica to watch the struggle for ultimate power play out in an unforgettable climax."—Branda Rickman Vantrease, bestselling author of
The Illuminator
"Poison delivers a fast-paced, gripping look at the wages of sin under the Borgias, as seen through the eyes of a troubled female poisoner. The seductive danger of Rome, lethal sanctity of the Vatican, and bitter taste for revenge all combine to produce an intoxicating brew that keeps us turning the pages, even as we glance fearfully at our fingertips for signs of residue."—C.W. Gortner, author of The Last Queen
"Poison is a riveting historical thriller that paints a vivid portrait of fifteenth-century Rome and the dangerous, duplicitous world of the fascinating Borgias. . . . Sara Poole's brilliant novel presents a race to the finish between Good and Evil that will leave you breathlessly awaiting what is surely the birth of a series."—Sandra Worth, award-winning author of The King's Daughter
 
"An engrossing journey through the darker side of Renaissance Rome,
Poison
creates an elegant tapestry of mysteries and deceit and a resourceful, original heroine in Francesca Giordano."—Susan Holloway Scott, author of
The French Mistress
"Descriptions of Roman streets, the Basilica of St. Peter, and the outlandish entertainments of the nobility bring 15th-century Rome to life. . . . this story of a determined poisoner delivers history, intrigue, and suspense . . . characters, plot, and historical setting will keep readers interested, especially fans of Renaissance-era novels."—Library Journal
"[Sara Poole] captures the color and pace of the best contemporary thrillers. With a style similar to James Patterson, the chapters are short and action filled. The plot is tight, each character clearly drawn. Fans of historical fiction will also be pleased with Poison's factual and tonal accuracy. . . . reminiscent of Dan Brown's Angels and Demons, with escapades in the Castel San Angelo, the tombs of St. Peter's basilica, and the crypt of Santa Maria sopra Minerva. Poison is a page-turner."—Historical Novel Society
"Lively and evocative . . . There are plots, counterplots, torture, betrayal and plenty of gore, all serving a strong and fascinating storyline in a rich and not well-known setting. Poole has done plenty of research, but it serves the story rather than the other way around. She's done a great job here."—San Jose Mercury News (California)
or
Not Currently Available for Direct Purchase