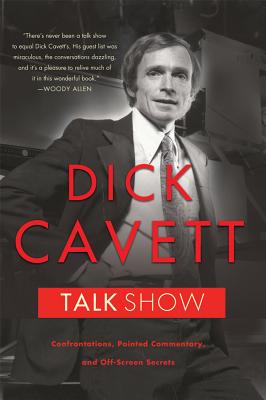 Talk Show: Confrontations, Pointed Commentary, and Off-Screen Secrets (Paperback)
Confrontations, Pointed Commentary, and Off-Screen Secrets
Griffin, 9780312610524, 279pp.
Publication Date: November 22, 2011
Description
"There's never been a talk show to equal Dick Cavett's... It's a pleasure to relive much of it in this wonderful book." Woody Allen
For years, Dick Cavett played host to the nation's most famous personalities on his late-night talk show. In this humorous and evocative book, we get to hear Cavett's best tales, as he recounts great moments with the legendary entertainers who crossed his path and offers his own trenchant commentary on contemporary American culture and politics. Pull up a chair and listen to Cavett's stories about one-upping Bette Davis, testifying on behalf of John Lennon, confronting Richard Nixon, scheming with John Updike, befriending William F. Buckley, and palling around with Groucho Marx. Sprinkled in are tales of his childhood in Nebraska in the 1940s and 1950s, where he honed his sense of comic timing and his love of magic.
Cavett is also a wry cultural observer, looking at America today and pointing out the foibles that we so often fail to notice about ourselves. And don't even get him started on politicians. A generation of Americans ended their evenings in Dick Cavett's company;" Talk Show" is a way to welcome him back.
About the Author
Dick Cavett was the host of the The Dick Cavett Show, which won three Emmys and aired on ABC from 1968 to 1975 and on PBS from 1977 to 1982. He also hosted talk shows on the USA, HBO, and CNBC cable networks. He is the coauthor of Cavett and Eye on Cavett, and since 2007 he has written an online opinion column for The New York Times. He lives in New York City and Montauk, New York.
Praise For Talk Show: Confrontations, Pointed Commentary, and Off-Screen Secrets…
Breezy, incisive and amusing—nice to have you back, Dick."—Kirkus Reviews  "In his beguiling profiles of celebrities . . . Cavett proves himself a solid writer as well as a talker."—Publishers Weekly "Do you know that age-old question, If you could have dinner with anyone in the world, living or dead, who would it be? Well, assuming Santa Claus is unavailable, my answer would be Dick Cavett. After reading Talk Show, you could just imagine what a conversation with him would be like: pleasant, insightful, and oddly erotic. Dick Cavett is a legend and an inspiration to me."--Jimmy Fallon
"There's never been a talk show to equal Dick Cavett's.  His guest list was miraculous, the conversations dazzling, and it's a pleasure to relive much of it in this wonderful book."--Woody Allen
Advertisement