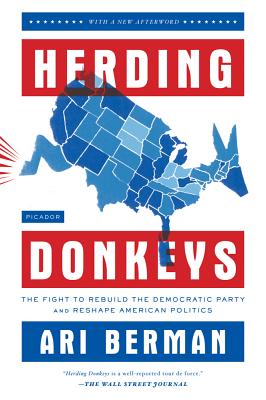 Herding Donkeys (Paperback)
The Fight to Rebuild the Democratic Party and Reshape American Politics
Picador USA, 9780312610623, 366pp.
Publication Date: January 31, 2012
Description
With a New Afterword
In 2008, Barack Obama's groundbreaking presidential campaign seemingly rewrote all the rules in electoral politics and heralded a new progressive era in America. What has become of the thrilling grassroots political movement that defined Obama's campaign and reshaped the electoral map? Ari Berman's Herding Donkeys answers and illuminates this vital question, mapping the evolution of modern American politics from Howard Dean to the Tea Party, and painting a vivid picture of the fight for political power in America today.
About the Author
ARI BERMAN is a political correspondent for The Nation and an Investigative Journalism Fellow at the Nation Institute. His writing has appeared in The New York Times, and he is a frequent commentator on MSNBC and National Public Radio. He lives in New York City.
Praise For Herding Donkeys: The Fight to Rebuild the Democratic Party and Reshape American Politics…
"Herding Donkeys is a well-reported tour de force." —The Wall Street Journal
"Lively [and] instructive, in some ways especially now." —The New York Review of Books
"Wonderful…reads like a scene out of the next
The Social Network
." —
The
Huffington Post
"Berman's book is the Howard Zinn version [of the Democratic comeback], the story of the people who were pushed out of the frame." —David Weigel,
Slate
"An excellent account of the rise and fall of Obama's organizing efforts." —
The New Republic


"The resurgence of the Democratic Party in the past two election cycles is one of the most important—and least understood—political stories of the new century. Ari Berman tells that tale with reportorial verve, a keen eye, a sharp pen, and a wealth of fresh insight. If you want to understand the grassroots revival of progressivism in America, and also the new challenges and aching disappointments that have come along with it, this is the book to read." —John Heilemann, national political columnist for 
New York
 magazine and coauthor of
Game Change: Obama and the Clintons, McCain and Palin, and the Race of Lifetime


"Ari Berman has written a political narrative so revelatory and exhilarating it kept me up nights reading. 
Herding Donkeys
is some of the freshest and incisive political reporting out there, and Berman, who has the keen eye of a novelist, is one heck of a storyteller." —Alex Kotlowitz, author of
There Are No Children Here
:
The Story of Two Boys Growing Up in the Other America


"
Herding Donkeys
is essential to understanding how the Democratic Party came back from the dead in 2006 and 2008. But it's especially good at explaining what happened to all of Barack Obama's grassroots energy. This is a hopeful but also sobering tale, told with strong inside reporting." —Jonathan Alter, author of
The Promise: President Obama, Year One


"
Herding Donkeys
is political reporting at its finest. In his spirited debut, Ari Berman takes readers inside the back rooms and living rooms where politics actually happens, but his novel vantage point doesn't prevent him from rendering the tough but fair judgments every great political reporter needs to make. This is a ripping account of the Democratic Party through an intense period of historic transformation." —Michael Tomasky, author of
Hillary's Turn: Inside Her Improbable, Victorious Senate Campaign


"An intriguing behind-the-scenes look at how the Obama campaign built on the grassroots movement that had catapulted Dean to prominence. . . . Engaging and balanced—a stand-out book." —
Kirkus Reviews
(starred review)
"With a keen appreciation of political strategy as well as an eye for telling anecdote and amusing detail, Ari Berman tells the amazing story of the Democratic party's revival. Berman's reporting vindicates the fifty-state strategy of Howard Dean and the determined organizing of Barack Obama—and shows why grassroots activism is still the most potent force for change in America." —Joe Conason, author of
Big Lies: The Right-Wing Propaganda Machine and How It Distorts the Truth


"Ari Berman tells the rollicking and rousing story of the fight for the soul of the Democratic party that has reshaped American politics. Full of riveting revelations, vivid reporting, and a cast of colorful characters,
Herding Donkeys
captures the exhilaration of the grassroots insurgency that Howard Dean launched—and Obama seized—to realign our political map. At a time of disillusionment with establishment politics, this book is solace for the soul. It is a timely reminder that the grit of tenacious organizers and antiestablishment politicians in red, blue, and purple states alike offers Hope 2.0." —Katrina vanden Heuvel, Editor and Publisher,
The Nation
"While a scoop-rich tome like John Heilemann and Mark Halperin's
Game Change
can tell us a lot about how campaigns are won and lost from the top down, Berman's more thoughtful book is equally good fun in telling the story of the election from the bottom up." —Dana Goldstein,
The American Prospect
Advertisement