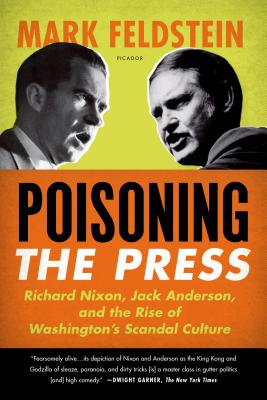 Poisoning the Press: Richard Nixon, Jack Anderson, and the Rise of Washington's Scandal Culture (Paperback)
Richard Nixon, Jack Anderson, and the Rise of Washington's Scandal Culture
Picador USA, 9780312610708, 461pp.
Publication Date: October 25, 2011
Description
A" Washington Post" Best Book of 2010
A" Denver Post" Best Book of 2010
A" Kansas City Star" Best Book of 2010
"Poisoning the Press" recounts the bitter quarter-century battle between the postwar era's most contentious politician and its most reviled newsman. The struggle between Richard Nixon and Jack Anderson included bribery, blackmail, burglary, spying, and sexual smears even a White House plot to assassinate Anderson. In this riveting, real-life political drama, Mark Feldstein traces the arc of this confrontation between a vindictive president and a flamboyantly crusading muckraker. Their vendetta at once symbolized and accelerated the growing conflict between the government and the press, a clash that would long outlive both men. Brilliant, captivating, and darkly comedic, "Poisoning the Press" is "an absolutely essential book for anyone interested in American political history" (NPR).
About the Author
Mark Feldstein, who teaches media and public affairs at George Washington University, was an investigative correspondent for CNN, ABC, and other news outlets for two decades, earning dozens of journalism awards, including an Edward R. Murrow Broadcasting Award, an Alfred I. Dupont-Columbia University Award, and two George Foster Peabody Awards. He received a bachelor's degree from Harvard and a doctorate from the University of North Carolina.
Praise For Poisoning the Press: Richard Nixon, Jack Anderson, and the Rise of Washington's Scandal Culture…
"Fearsomely alive…Its depiction of Nixon and Anderson as the King Kong and Godzilla of sleaze, paranoia and dirty tricks [is] a master class in gutter politics." —Dwight Garner, The New York Times
"Detailing Nixon's utter obsession with Anderson…Poisoning the Press stunned me….It may transform the muckraker's image." —Howard Kurtz, The Washington Post
"Feldstein mines fresh treasures from the president's trove of secret Oval Office tapes….He nails the baleful Nixon-Anderson legacy." —Edward Kosner, The Wall Street Journal
"Superb." —Jack Shafer, Slate
"A gripping, well-told narrative history…its punch is tinged with a romantic melancholy." —The Nation
"Provocative…A fresh and sometimes startling look at the powerful muckraking journalist and the politician he so often pursued." —The Seattle Times
"A furiously paced real-life thriller, Mark Feldstein's multi-decade history works as both gripping drama and darkly funny analysis….You simply can't deny his verve….A must-read." —Time Out (New York)
"The rise and fall of Jack Anderson is a newspaper story that needed to be told, as Mark Feldstein has done brilliantly. But there is an even more compelling saga tucked inside this book—Anderson versus President Richard Nixon. Feldstein has given us the disgraced Nixon at his best and worst, and in his own words—scatological, criminal, paranoid, and willing to do anything to rid himself of Anderson's sensational reporting." —Seymour Hersh, author of Chain of Command

"Mark Feldstein's compelling reconstruction of the Richard Nixon-Jack Anderson conflict is a groundbreaking history of modern political skulduggery and media scandalmongering. There are no heroes in Feldstein's book—only the ugly truth about two men who had a lasting impact on American politics and journalism. Poisoning the Press is required reading for anyone interested in the current world of Washington politics and media." —Robert Dallek, author of Lyndon B. Johnson and An Unfinished Life

"Poisoning the Press is an important book. It couldn't be more timely and deserves widespread readership . . . [There's] masterful research and reporting rivetingly written . . . Besides that, it reads like a thriller. Pick it up and you're not likely to be able to put it down." —Dan Rather, host of Dan Rather Reports

"I lived through a lot of this while working for Jack Anderson and found it a fascinating and evenhanded account." —Brit Hume, senior political analyst, FOX News

"When gutter politics are practiced, gutter journalism may be democracy's last line of defense. In Poisoning the Press, Mark Feldstein eviscerates the two giants of those black arts, Richard Nixon and Jack Anderson . . . A superbly told, hilarious tale, which will also scare the hell out of you."  —Morley Safer, 60 Minutes correspondent

"Poisoning the Press is a stunning tale of political and journalistic dirty tricks. Mark Feldstein reveals how the news is often manufactured in the nation's capital, and how Washington's most feared investigative reporter exposed serious abuses of power even while he smeared his targets with sexual innuendo. More significant still, this enthralling account explains the larger story of how our modern era of political scandal was born." —Michael Isikoff, national investigative correspondent, NBC News

"Mark Feldstein's Poisoning the Press is a crucially important, brilliantly illuminating work of intense scholarship. As presented in these pages, the legendary feud between Richard Nixon and Jack Anderson reads like a potboiler. It's essential reading for anybody interested in postwar America. A monumental achievement!" —Douglas Brinkley, Professor of History, Rice University, and author of The Wilderness Warrior

"Poisoning the Press is a fast-paced tour de force. Riveting and often eye-popping, Mark Feldstein's revelations take us right into the Oval Office, where President Nixon plotted the destruction of his relentless nemesis, columnist Jack Anderson. Feldstein's voluminous research doesn't flinch from Anderson's seamier side, but at his best, the muckraker held the powerful accountable through the kind of investigative journalism often missing in an era of disappearing newspapers and dwindling news budgets." —Cokie Roberts, news analyst, ABC and NPR, and author of Ladies of Liberty
Advertisement