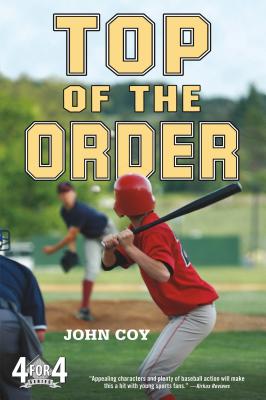 Top of the Order (4 for 4 #1) (Paperback)
Square Fish, 9780312611118, 208pp.
Publication Date: March 2, 2010
Other Editions of This Title:
Hardcover (3/3/2009)
* Individual store prices may vary.
Description
Jackson's mom is dating. Gig's dad is going to serve in the Middle East. Isaac might be going to a new school. Diego spends his spare time working. These four friends lead different lives, but on the baseball field, they're a strong team—the top of the order. As their last year of elementary school ends, the boys want to have their best baseball season ever. But this year, they might not even have enough players to stay in the league. Then a great player volunteers to join the team. But it's a girl! And she plays with a pink glove! Now the team is coming apart at the seams. Will this end up being the worst season ever?
Here is a story about how life, like sports, can be unpredictable, frustrating, and exhilarating. Top of the Order by John Coy is part of the 4 for 4 series, an action-packed middle grade series for young readers about four boys from diverse backgrounds who deal with family, friendship, and school situations.
"Appealing characters and plenty of baseball action will make this a hit with young sports fans." —Kirkus Reviews
"Coy effortlessly captures the voices of boys on the verge of adolescence. Jackson and his friends are fully developed." —School Library Journal
About the Author
John Coy has written several books for children, including Top of the Order and Love of the Game. He spends much of his time as a writer-in-residence at elementary schools. He lives in St. Paul, Minnesota.
Praise For Top of the Order (4 for 4 #1)…
"Coy (Box Out) brings his successful combination of relatable characters and sports action to his middle-grade debut...Coy does a good job keeping his story grounded in the concerns that kids this age would have, and his characters . . . are appealing and true to life. Young baseball fans will enjoy the infield banter, Gig's corn-dogs-up-the-nose antics and the grand slam ending." —Publishers Weekly
"Keeping the tone light and folding in suspenseful game action, Coy underscores the importance of teamwork, bonding, and being open to change both on and off the field." —Booklist
"Gripping play-by-play and a fast-moving plot will appeal to sports enthusiasts and reluctant readers." —School Library Journal