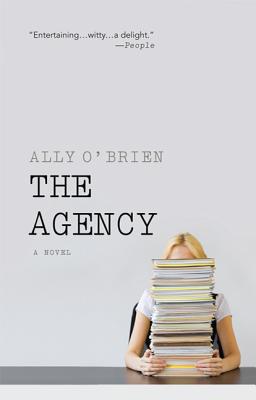 The Agency (Paperback)
A Novel
St. Martin's Griffin, 9780312611132, 320pp.
Publication Date: October 12, 2010
* Individual store prices may vary.
Description
Meet Tess Drake. She's earned everything she has. Now it's time to get what she deserves…
Sexy super-agent Tess Drake has worked hard to make a name for herself in the glamorous yet cut-throat entertainment industry. Tess works at an international agency, where she skillfully manages some of the world's biggest egos. Tess has been an agent there for longer than she cares to remember and now she's in trouble. After the mysterious death of the agency's senior partner, Lowell Bardwright, Tess's sworn enemy, Cosima Tate, has taken over and will do anything to send Tess's career down in flames. Tess has another little complication, too. She's sleeping with men on both sides of the Atlantic who are in bed with the women who are trying to sink her. Can Tess jump ship without losing her clients and breaking her heart? Or will she lose everything before finding out if she really has what it takes to do what she's always wanted?
About the Author
Ally O'Brien is the pseudonym for a writing duo that includes an international bestselling author of suspense novels and a successful, well-known international entertainment agent based in London. O'Brien is the author of The Agency.
Praise For The Agency: A Novel…
"Entertaining...witty...a delight." —People Magazine (3 ½ stars)
"Heroine Tess Drake [is] equal parts Ari Gold and Sherlock Holmes in a slit-to-there skirt." —Entertainment Weekly
"A delicious read! Even more entertaining than Sex & the City and Lipstick Jungle combined... The Agency is one hot, exciting, and sexy book, with a seductive plot that makes those pages fly. Don't miss this exquisite jewel!" —Publishers Weekly
"With an insider's take on the book biz, and an appealingly foul-mouthed heroine, this debut is fast, funny and a bit nasty--not unlike Tess. A naughty, catty good time." —Kirkus
"The duo writing as O'Brien proves there's nothing like teamwork. The book combines genres effectively, melding into one fantastic novel... Cleverness abounds, especially in the dialogue and plot twists." —Romantic Times (4 stars)
"The gossipy and glitzy world of book publishing provides the perfectly irresistible setting for O'Brien's sexy and acerbic story of a tough-talking, determined heroine who, even though she hasn't always made the best choices in love and life, still keeps trying." —The Chicago Tribune
"The Agency is a delicious mash-up of chick-lit and thriller, kind of what The Devil Wears Prada might have been if written by John Le Carre… The authors offer X-Acto-sharp dialogue, steamy sex scenes, a lot of skullduggery and a heroine more appealing when she's naughty than when she's nice." —The South Florida Sun-Sentinel
"[A] funny and salacious tale… it's easy to get caught up in Tess' glamorous, fast-paced world of lovers, parties and deals, wondering just what is going to happen next." —Minneapolis Star Tribune
"A surprisingly single-minded page-turner, packed with a colorful assortment of egomaniacs and more plot twists than Lindsay Lohan's love life… the literary equivalent of a dry martini: salty, intoxicating and curiously delicious." —New York Daily News
"The Agency's got bite--it sucks you in and leaves teeth marks." —Amanda Goldberg and Ruthanna Hopper, coauthors of the New York Times bestselling Celebutantes
"The Agency is brash, cheeky, and cuttingly smart. Move over Bridget Jones, there's a new girl in town! Despite enemies who hate her, lovers who betray her, and clients who desert her, Tess Drake is a marvelously irrepressible heroine. You'll want to stick with The Agency from start to finish, through thick and thin, through hell and high water--what a fabulous ride!" —Joan Johnston, author of the New York Times bestselling novel A Stranger's Game
"Sex, drugs, and literature..." —Sarah Ivens, editor-in-chief of OK! Magazine
"One of the most fun books I have read in awhile. A mixture of racy chick lit, mystery, and adventure, you will find it hard to put this book down once you get started." —BellaOnline.com