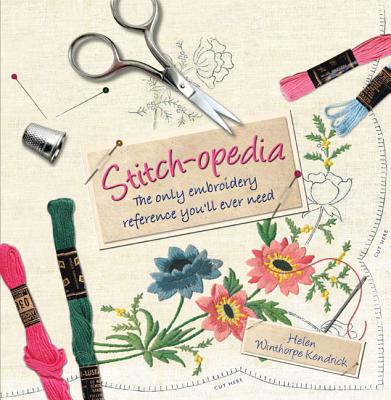 Stitch-opedia (Spiral bound)
The Only Embroidery Reference You'll Ever Need
St. Martin's Griffin, 9780312611590, 224pp.
Publication Date: May 11, 2010
* Individual store prices may vary.
Description
There is nothing as beautiful as a wonderfully-worked embroidery design, either used to adorn clothing or as an embellishment on a home accessory. Now a new generation is rediscovering the pleasures of the centuries-old craft. Written for beginners and experts alike, Stitch-Opedia describes in detail hundreds of embroidery stitches. Each stitch is grouped into sections that include: canvas work, crewel work, hardanger, pulled work, stumpwork and much more. Each stitch includes close-up, detailed color photographs, a full-color working diagram, and accurate written instructions. An extremely helpful alphabetical listing with close-up thumbnail photographs appears later in the book allowing the user to cross-reference each stitch.
With sections on materials and equipment, basic techniques, and a collection of motifs that can be either copied or transferred to fabric, this beautifully-designed, full-color book is sure to attract newcomers and experts alike with its combination of convenience and creative encouragement.
About the Author
Helen Winthorpe Kendrick is a freelance textile artist and teacher living in England. She enjoys incorporating a "story" into her pieces and uses the variety of threads, fabric, and stitches to convey a theme or idea. As well as exhibiting her work, she takes commissions, gives talks, and runs workshops on a variety of embroidery techniques.
Praise For Stitch-opedia: The Only Embroidery Reference You'll Ever Need…
"As someone that knows almost nothing about hand embroidery, I found this book to be a wonderful guide to basic embroidery stitches. There are a lot of techniques out there, and Stitch-opedia is a great reference for learning them." —Threads
"This book is a great learning tool. If you've ever had the slightest interest in any form of embroidery before, then I highly recommend that you check out Stitch-opedia. I am certain that you will find everything you have ever wanted to know... and then some! Even if you are a seasoned embroiderer, this would still be a fabulous book for you. You'll gain a one-stop reference book, plus some fantastic projects you'll want to whip up right then!" —Wee Share blog