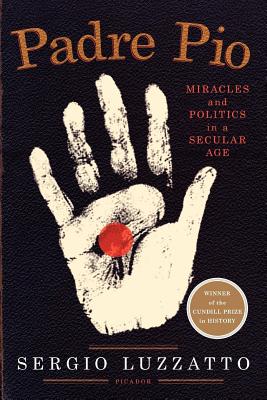 Padre Pio: Miracles and Politics in a Secular Age (Paperback)
Miracles and Politics in a Secular Age
St. Martins Press-3pl, 9780312611668, 384pp.
Publication Date: November 1, 2011
Description
The first historical appraisal of the astonishing life and times of a controversial twentieth-century saint
Padre Pio is one of the world's most beloved holy figures, more popular in Italy than the Virgin Mary and even Jesus. His tomb is the most visited Catholic shrine anywhere, drawing more devotees than Lourdes. His miraculous feats included the ability to fly and to be present in two places at once; an apparition of Padre Pio in midair prevented Allied warplanes from dropping bombs on his hometown. Most notable of all were his stigmata, which provoke heated controversy to this day. Were they truly God-given? A psychosomatic response to extreme devotion? Or, perhaps, the self-inflicted wounds of a charlatan?
Now acclaimed historian Sergio Luzzatto offers a pioneering investigation of this remarkable man and his followers. Neither a worshipful hagiography nor a sensationalist expose, "Padre Pio" is a nuanced examination of the persistence of mysticism in contemporary society and a striking analysis of the links between Catholicism and twentieth-century politics. Granted unprecedented access to the Vatican archives, Luzzatto has also unearthed a letter from Padre Pio himself in which the monk asks for a secret delivery of carbolic acid-a discovery which helps explain why two successive popes regarded Padre Pio as a fraud, until pressure from Pio-worshipping pilgrims forced the Vatican to change its views.
A profoundly original tale of wounds and wonder, salvation and swindle, "Padre Pio" explores what it really means to be a saint in our time.
"Padre Pio "is the winner of the 2011 Cundill Prize in History.
About the Author
Sergio Luzzatto is the author of numerous books on French and Italian history, including The Body of Il Duce: Mussolini's Corpse and the Fortunes of Italy. He is a professor of modern history at the University of Turin, Italy, and a regular contributor to the leading Italian daily Il Sole 24 Ore.
Praise For Padre Pio: Miracles and Politics in a Secular Age…
Winner of the 2011 Cundill Prize in History "The trajectory and significance of Pio's life are described with remarkable skill by Luzzatto.… This translation of Sergio Luzzatto's outstanding biography gives Anglophone readers the first opportunity to consult a serious account of the Padre Pio phenomenon, a study of the man and of his socio-political environment, based on comprehensive research by a skilled and subtle academic historian."
— Marco D'Eramo, New Left Review
"Fascinating... Luzzatto is quite brilliant in explicating how the cult of Padre Pio reflected and refracted dynamics within Italian society and the Roman Catholic Church."—Mathew N. Schmalz, Commonweal "Luzzatto is nothing if not readable, and he introduces a vastly entertaining cast... His aim is a kind of phenomenology of what it means to invoke sainthood in a century of technological marvels, world wars, and mass culture."—John Kappes, The Plain Dealer "Sergio Luzzatto writes with verve, insight, and diligence... A lively and thorough study."—John L. Murphy, PopMatters "A solid exploration into the fine line between the faithful and the fraudulent in twentieth-century Catholicism."
—Kirkus Reviews "Luzzatto's book is masterful… The research is staggeringly deep and wide—embracing runs of archival arguments never before consulted and rare books and pamphlets preserved in obscure libraries. The framework is trans disciplinary—this is the work of a historian who knows his anthropology and his political theory. The writing is enviably lucid, and never lush."
—Ramachandra Guha, the Philippe Roman Professor of History and International Relations, London School of Economics "Sergio Luzzatto has written a fascinating study of the origin and development of the cult of Padre Pio, complete with hitherto unknown, bizarre stories of shady deals, con men, Fascists, and German collaborators as well as mystics and true believers. All this is set against a sweeping overview of twentieth-century history at its most dramatic. A masterful and intriguing achievement."—Susan Zuccotti, author of Under His Very Windows: The Vatican and the Holocaust in Italy "Sergio Luzzatto, the virtuoso Italian historian, here turns to Padre Pio, the stigmata-suffering Capuchin monk from the boot of Italy. How to account for his immense cult? The crowds that worshipped him as a living saint? The ubiquity of his image, on display everywhere—in homes and sheds, ships and trucks—in so many cultures? Luzzatto's approach is agile and panoramic, embracing powerful Church interests, cunning commercial instincts, the awful twentieth-century wars, and the holy man's own highly manipulated religious sensibility. Concrete, empathetic, and exquisitely translated, Luzzatto's work on 'sainthood Italian style' highlights the perfect normality of outlandish religiosity in the secular West."
—Victoria de Grazia, author of Irresistible Empire: America's Advance through Twentieth-Century Europe
Advertisement