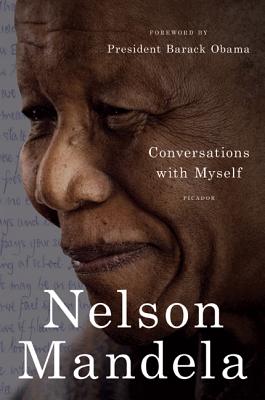 Conversations with Myself (Paperback)
Picador USA, 9780312611682, 454pp.
Publication Date: September 27, 2011
Description
" Nelson Mandela] has done so much to change his country, and the world, that it is hard to imagine the history of the last several decades without him." from the foreword by President Barack Obama
Foreword by President Barack Obama
Nelson Mandela is one of the most inspiring and iconic figures of our age. Now, after a lifetime of recording thoughts and events, hardships and victories, he has opened his personal archive, which offers unprecedented insight into his remarkable autobiography.
From letters written in the darkest hours of his twenty-seven years of imprisonment to the draft of an unfinished sequel to "Long Walk to Freedom, Conversations with Myself "gives readers access to the private man behind the public figure. Here he is making notes and even doodling during meetings, or transcribing troubled dreams on the desk calendar in his prison cell on Robben Island; writing journals while on the run during the anti-apartheid struggle in the early 1960s, and conversing with friends in almost seventy hours of recorded conversations. Here he is neither icon nor saint.
An intimate journey from the first stirrings of political consciousness to his galvanizing role on the world stage, "Conversations with Myself "is a rare chance to spend time with Nelson Mandela the man, in his own voice: direct, clear, private.
About the Author
Nelson Mandela was a former President of South Africa, the first to be elected in fully representative democratic elections. He was born in Transkei, South Africa, in 1918. Before his presidency, Mandela was an anti-apartheid activist and leader of the African National Congress. In 1964, he was convicted of crimes including sabotage committed in the struggle against apartheid. He was imprisoned for 27 years at Robben Island prison and Pollsmoor prison. During his incarceration, his reputation as a potent symbol of resistance to apartheid grew steadily. Released from prison in 1990, Mandela received the Nobel Peace Prize in 1993 and was inaugurated as President of South Africa in 1994. He is the author of the internationally bestselling autobiography Long Walk to Freedom and Conversations with Myself. Mandela died in December 2013.
Praise For Conversations with Myself…
"A prisoner became a free man; a liberation figure became a passionate voice for reconciliation; a party leader became a president who advanced democracy….He has done so much to change his country, and the world, that it is hard to imagine the history of the last several decades without him." —from the foreword by President Barack Obama

"A literary album…Intensely moving, raw, and unmediated…Provides the fullest picture yet of Nelson Mandela…A necessary book." —Peter Godwin, The Observer (London)
"There are fascinating glimpses of the inner man, and flashes of his celebrated humor….Conversations presents a Mandela more people may feel they can emulate." —Chicago Tribune
"This book will reduce the reader to both rapture and tears....Deeply moving." —Financial Times (London)
"A truly unprecedented moment in publishing…Stunning…Nothing short of a monumental historical document." —The Daily Beast
"This book will reduce the reader to both rapture and tears." —Alec Russell, Financial Times "Outstanding for what it offers. . . Its collection of letters and meditations, together with its thorough index and appendix, belongs on the shelf of anyone interested in the nature of power and resistance." —J.M. Ledgard, The New York Times Review of Books
Advertisement