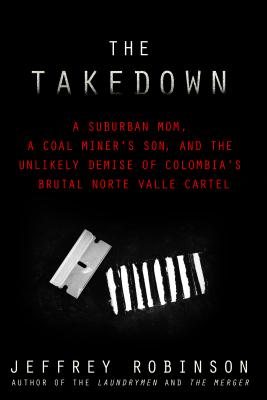 The Takedown (Hardcover)
A Suburban Mom, A Coal Miner's Son, and The Unlikely Demise of Colombia's Brutal Norte Valle Cartel
Thomas Dunne Books, 9780312612382, 336pp.
Publication Date: August 2, 2011
* Individual store prices may vary.
Description
If ever there was an odd couple.

A suburban mom and a coal miner's son.

Bonnie Klapper is an attractive, funny, off-beat but tenacious federal prosecutor who constantly thinks out of the box, often to the chagrin of her superiors. She is a full-time Assistant US Attorney, and a full-time mom to two sons, one of whom is a special needs child.

Now retired Special Agent Romedio "Rooney" Viola --- first of US Customs then of the Department of Homeland Security --- is a slightly built, larger-than-life eccentric from West Virginia whose reputation was based on his obsessive-compulsive pursuit of fugitives.

They were brought together by happenstance while both were assigned to the "El Dorado Task Force," operating out of the World Trade Center. A raid on three wire remitters in Queens, New York uncovered huge amounts of drug money being sent to three tiny villages in Colombia that no one had ever heard of.

Neither the Justice Department nor the Treasury Department seemed terribly concerned with where the money was going, as long as this flow of drug cash was stopped.

But Bonnie and Rooney wanted to know more.

Working together out of her tiny office in the implausible outpost of Hauppauge, Long Island, they set off on a 15 year journey to dismantle --- systematically --- the Colombian cartel responsible for 60% of all the cocaine coming into the United States.

Her superiors at Justice and his superiors at what was then Immigration and Customs Enforcement were quick to write them both off as dreamers.

Management believed there were enough drug dealers in the greater New York area to keep everyone busy for a long time. Taking down a barbarous gang of traffickers and murderers 2500 miles away, was pure fantasy.

But Bonnie wasn't so sure.

And Rooney didn't care what they thought.
About the Author
JEFFREY ROBINSON is the international best-selling author of more than two dozen books, both fiction and non-fiction. A recognized expert on organized crime and money laundering, "The Takedown "is his fifth investigative true crime expose. He lives in New York.
or
Not Currently Available for Direct Purchase