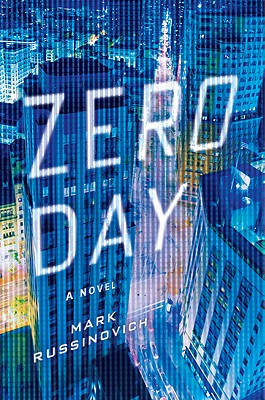 Zero Day
A Jeff Aiken Novel
Hardcover

* Individual store prices may vary.
Other Editions of This Title:
Digital Audiobook (8/20/2012)
Paperback (8/21/2012)
CD-Audio (5/5/2015)
Description
An airliner's controls abruptly fail mid-flight over the Atlantic. An oil tanker runs aground in Japan when its navigational system suddenly stops dead. Hospitals everywhere have to abandon their computer databases when patients die after being administered incorrect dosages of their medicine. In the Midwest, a nuclear power plant nearly becomes the next Chernobyl when its cooling systems malfunction.
At first, these random computer failures seem like unrelated events. But Jeff Aiken, a former government analyst who quit in disgust after witnessing the gross errors that led up to 9/11, thinks otherwise. Jeff fears a more serious attack targeting the United States computer infrastructure is already under way. And as other menacing computer malfunctions pop up around the world, some with deadly results, he realizes that there isn't much time if he hopes to prevent an international catastrophe.
Written by a global authority on cyber security, "Zero Day" presents a chilling "what if" scenario that, in a world completely reliant on technology, is more than possible today---it's a cataclysmic disaster just waiting to happen.
Praise For Zero Day: A Jeff Aiken Novel…
"Mark came to Microsoft in 2006 to help advance the state of the art of Windows, now in his latest compelling creation he is raising awareness of the all too real threat of cyber terrorism."--Bill Gates"CyberTerrorism. Get used to that word and understand it because you're going to see more of it in the newspapers and hear it on the news in the not too distant future. Mark Russinovich is a CyberSecurity expert who has turned his considerable knowledge into a very scary and too plausible novel. Zero Day is not science fiction; it is science fact, and it is a clear warning of Doomsday. A must-read for all Americans and for those entrusted with our security and our survival."--Nelson DeMille"While what Mark wrote is fiction, the risks that he writes about eerily mirror many situations that we see today."--Howard A. Schmidt, White House Cyber Security Coordinator"An up-to-the-moment ticking-clock thriller, Zero Day imagines the next 9/11 in a frightening but all too believable way. An expert in the field, Mark Russinovich writes about cyberterrorism with a mix of technical authority and dramatic verve. I was riveted."--William Landay, author of The Strangler"When someone with Mark Russinovich's technical chops writes a tale about tech gone awry, leaders in the public and private sector should take notes."--Daniel Suarez, author of Daemon"Microsoft computer guru Russinovich's first novel, a cautionary tale about the imminence of the great cyber attack to wipe out the Internet."--Publishers Weekly "Nothing if not topical, this is a competent thriller boasting a full share of conspiracies, betrayals, violence and against-the-clock maneuvers."--Kirkus Reviews
"Russinovich's debut thriller is worth a read; conspiracy theorists will thoroughly enjoy it."--Library Journal"Zero Day by Mark Russinovich paints a chilling picture of what might happen if hackers lose interest in stealing credit cards and become more focused on cyberterrorism. ... Whether or not you're a computer geek, Zero Day tells a compelling story with thrills and chills to entertain you. I found it more plausible and fun than Dan Brown's Digital Fortress."--The Seattle Post-Intelligencer"Guns, babes, rootkits, blade servers, damsels in distress, and assassins. ... Strikes a good balance between technical believability and plot pace."--TechRepublic
Thomas Dunne Books, 9780312612467, 336pp.
Publication Date: March 15, 2011
About the Author
MARK RUSSINOVICH works at Microsoft as a Technical Fellow, Microsoft's senior-most technical position. He joined the company when Microsoft acquired Winternals software, which he confounded in 1996. He is also author of the popular Sysinternals tools. He is coauthor of the Windows Internals book series, a contributing editor for "Tech Net Magazine," and a senior contributing editor for "Windows IT Pro Magazine." He lives in Washington State.