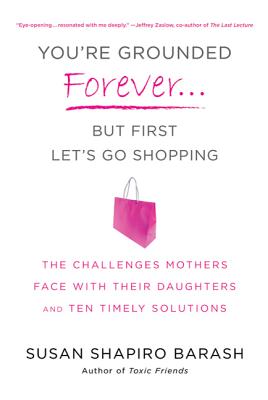 You're Grounded Forever...But First, Let's Go Shopping
The Challenges Mothers Face with Their Daughters and Ten Timely Solutions
Paperback

* Individual store prices may vary.
Description
Susan Shapiro Barash's provocative new book examines the most difficult challenges any woman faces when raising daughters: Are we spoiling them or being too rigid? Are we trying to be their friend or are we setting ourselves up as adversaries? Are we setting a good example, or are we a cautionary tale? In short, are we creating our own monsters? This book explores:

* "What color would you like that Prada bag in?" (Material indulgence)

* "Do you need to be eating that?" (Fixations on food and weight)

* "Of course you can drink when you're home with me." (Lacking boundaries and rules)

* "Your closest friends are your biggest rivals." (Underestimating female friendships)

* "I'll just say you aren't feeling well." (Making excuses)

* And much more
St. Martin's Griffin, 9780312614225, 304pp.
Publication Date: September 27, 2011
About the Author
SUSAN SHAPIRO BARASH is an established writer of nonfiction women's issue books and has written more than a dozen books, including The Nine Phases of Marriage; Toxic Friends; Little White Lies, Deep Dark Secrets and Tripping the Prom Queen. She teaches gender studies at Marymount Manhattan College. A well-recognized gender expert, she is frequently sought out by newspapers, televisions shows, and radio programs to comment on women's issues. She also blogs for The Huffington Post and Psychology Today. She lives in New York City.