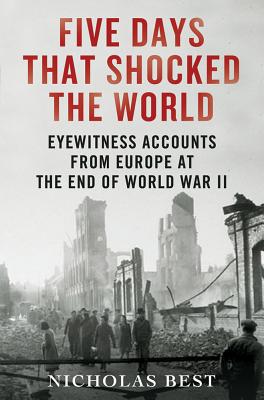 Five Days That Shocked the World: Eyewitness Accounts from Europe at the End of World War II (Hardcover)
Eyewitness Accounts from Europe at the End of World War II
Thomas Dunne Books, 9780312614928, 369pp.
Publication Date: January 17, 2012
* Individual store prices may vary.
or
Not Currently Available for Direct Purchase
Description
In the momentous days from April 28 to May 2, 1945, the world witnessed the death of two Fascist dictators and the fall of Berlin. Mussolini's capture and execution by Italian partisans, the suicide of Adolf Hitler, and the fall of the German capital signaled the end of the four-year war in the European Theater. In "Five Days That Shocked the World," Nicholas Best thrills readers with the first-person accounts of those who lived through this dramatic time.
In this valuable work of history, the author's special achievement is weaving together the reports of famous and soon-to-be-famous individuals who experienced the war up close. We follow a young Walter Cronkite as he parachutes into Holland with a Canadian troop; photographer Lee Miller capturing the evidence of Nazi atrocities; the future Pope Benedict returning home and hoping not to get caught and shot after deserting his infantry unit; Audrey Hepburn no longer having to fear conscription into a Wehrmacht brothel; and even an SS doctor's descriptions of a decadent sex orgy in Hitler's bunker.
In skillfully synthesizing these personal narratives, Best creates a compelling chronicle of the five earth-shaking days when Fascism lost it death grip on Europe. With this vivid and fast-paced narrative, the author reaffirms his reputation as an expert on the final days of great wars.
About the Author
NICHOLAS BEST grew up in Kenya and was educated there, in England, and at Trinity College, Dublin. He served in the Grenadier Guards and worked as a journalist in London. He was the "Financial Times" fiction critic for ten years and is the author of "The Greatest Day in History," a narrative on the end of World War I.
Praise For Five Days That Shocked the World: Eyewitness Accounts from Europe at the End of World War II…
"A gripping account of the last days of World War II. Written from the perspective of individuals—some famous then, almost all famous thereafter—who experienced the dreadful days, the book provides a clear picture of the immensely varied events, most tragic and horrifying, some poignant and hopeful—that rolled out as that most awful of wars finally came to an end in Europe. It reads like a thriller, informs like a scholar, and is not to be missed." —Randall Hansen, author of Fire and Fury: The Allied Bombing of Britain

UK Praise for THE GREATEST DAY IN HISTORY:

"Reading it is like looking into a photograph album full of vivid snaps of the world taken during a week of high tension, crisis, celebration, tragedy and illusion."—DAILY MAIL

"Scintillating ... a miscellany of tragedy mixed with delight."—LITERARY REVIEW
Advertisement