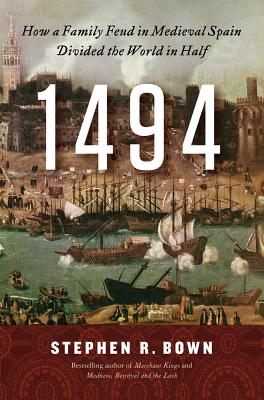 1494: How a Family Feud in Medieval Spain Divided the World in Half (Hardcover)
How a Family Feud in Medieval Spain Divided the World in Half
Thomas Dunne Books, 9780312616120, 292pp.
Publication Date: February 14, 2012
* Individual store prices may vary.
or
Not Currently Available for Direct Purchase
Description
"This is a starry love story, a tale of seething jealousies and subterfuge, a political imbroglio, and religious cruelties. It sounds like Shakespeare and it could have very well been the plot of one of his plays."
-"-Toronto Star"
""
In "1494, "award-winning author Stephen R. Bown tells the untold story of the explosive feud between monarchs, clergy, and explorers that split the globe between Spain and Portugal and made the world's oceans a battleground.
When Columbus triumphantly returned from America to Spain in 1493, his discoveries inflamed an already-smouldering conflict between Spain's renowned monarchs, Ferdinand and Isabella, and Portugal's Joao II. Which nation was to control the world's oceans? To quell the argument, Pope Alexander VI the notorious Rodrigo Borgia issued a proclamation laying the foundation for the Treaty of Tordesillas of 1494, an edict that created an imaginary line in the Atlantic Ocean dividing the entire known (and unknown) world between Spain and Portugal.
Just as the world's oceans were about to be opened by Columbus's epochal voyage, the treaty sought to limit the seas to these two favored Catholic nations. The edict was to have a profound influence on world history: it propelled Spain and Portugal to superpower status, steered many other European nations on a collision course, and became the central grievance in two centuries of international espionage, piracy, and warfare.
The treaty also began the fight for "the freedom of the seas" the epic struggle to determine whether the world's oceans, and thus global commerce, would be controlled by the decree of an autocrat or be open to the ships of any nation a distinctly modern notion, championed in the early seventeenth century by the Dutch legal theorist Hugo Grotius, whose arguments became the foundation of international law.
At the heart of one of the greatest international diplomatic and political agreements of the last five centuries were the strained relationships and passions of a handful of powerful individuals. They were linked by a shared history, mutual animosity, and personal obligations quarrels, rivalries, and hatreds that dated back decades. Yet the struggle ultimately stemmed from a young woman's determination to defy tradition and the king, and to choose her own husband.
About the Author
STEPHEN R. BOWN has been writing about adventurers, travelers, and explorers for many years. He is the author of "Madness, Betrayal and the Lash; Scurvy; A Most Damnable Invention; "and "Merchant Kings. "He lives in the Canadian Rockies with his wife and two children.
Praise For 1494: How a Family Feud in Medieval Spain Divided the World in Half…
Praise for 1494:
"Anyone who wishes to thoroughly understand the development of today's geopolitical world must read Mr. Bown's 1494."
--New York Journal of Books
"Bown's captivating study presents a fresh glimpse into the origins of the age of exploration and conquest as other nations challenged the primacy of Spain and Portugal." --
Publishers Weekly
 "Both a judicious synthesis of the surrounding scholarship and an entertaining look at the evolution of international law on the high seas." 
--Booklist
"This is a starry love story, a tale of seething jealousies and subterfuge, a political imbroglio, and religious cruelties. It sounds like Shakespeare and it could have very well been the plot of one of his plays. . . . In the 15th century, the world began to take shape in the ways we understand it today."
-
-Toronto Star


"One more
Ripley's Believe It Or Not
exhibit from our strange and wonderful past. . . .
1494
is certainly a good read."
--
National Post
"An entertaining and elegantly written voyage into the treacherous seas of religious fanatics, greedy slavers, depraved autocrats, doomed indigenous peoples and desperately brave adventurers in search of fortune."
--The Globe & Mail
 
Praise for Merchant Kings:
 "A masterful read." --
The Washington Times
 "Engagingly written and refreshingly conversational,
Merchant Kings
brings a cohesion to such a large and unwieldy historical period, a period that both led directly to, and remains an integral part of, so many contemporary economic and political struggles." --
The Post and Courier
 "A chronicle perfectly relevant to our own time--and ultimately shows us that a market is free only when those who live and consume within it are protected from the powerful." --
New York Journal of Books

"Stephen Bown has ingeniously whittled this multinational history down to vignettes of six of its more notorious figures. . . . These characters are as familiar to us as evil storybook characters, yet as foreign to contemporary business standards as Genghis Khan." --Timothy Brook, author of
Vermeer's Hat


"Stephen Bown tells a fascinating story, one that provides a very different perspective on the colonial period than that which is to be gleaned from the usual grocery list of significant events."
--The Right Honourable Paul Martin, former Prime Minister of Canada
"A fascinating adventure story with vivid descriptions of eighteenth-century geopolitics and native and British societies . . . Stephen Bown is emerging as Canada's Simon Winchester."
--
The Globe and Mail
on
Madness, Betrayal and the Lash


Praise for A Most Damnable Invention:


"[Bown]'s particularly good at penning provocative theories that link seemingly modest events to monumental changes in the course of history. . . . Bown also has a good eye for the unintended consequences, ironies, and contradictions that are the product of social and technological forces of great magnitude."
--Publishers Weekly
Advertisement