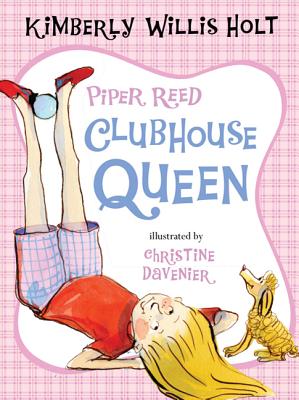 Piper Reed, Clubhouse Queen (Paperback)
Square Fish, 9780312616762, 176pp.
Publication Date: March 29, 2011
Other Editions of This Title:
Hardcover (8/2/2011)
* Individual store prices may vary.
Description
Previously published as Piper Reed, the Great Gypsy.
The Gypsy Club Creed
We are the Gypsies of land and sea.
We move from port to port.
We make friends wherever we go.
And everywhere we go, we let people know
That we're the Gypsies of land and sea.
Piper's dad—the Navy Chief—might be gone again, but Piper's got plenty to keep her busy at home: new neighbors, a spaceship beach house, a trip to New Orleans, and most important, the upcoming Gypsy Club pet show. Piper is determined to win, but teaching her dog Bruna tricks seems nearly impossible. Bruna is simply un-teachable! Or is she? Join Piper as she embarks on new and exciting adventures!
About the Author
Twenty three years ago Kimberly Willis Holt stopped talking about wanting to be a writer and started to pursue her dream. Because of her family's Louisiana roots she considers herself a southerner, but her father's military career took her to places beyond the South, including Paris and Guam.
She's the author of more than fifteen books for a wide range of ages, many of which have won awards and honors. Her third novel, When Zachary Beaver Came to Town won the National Book Award for Young People's Literature. She writes and gardens in Texas.
As a young girl growing up in Tours, France, Christine Davenier loved listening to her older sister read fairy tales aloud. But she frequently found herself wondering, What does the princess's beautiful dress look like? or How exquisite are her jewels? Christine was left to her own imagination, for the books had few illustrations. So it comes as little surprise that today, Christine embraces her career as an illustrator. "I'm thrilled to have the opportunity to create the illustrations I dreamed about seeing as a child," she says.
When Christine was fourteen, she received her first box of watercolor paints, a gift from her grandmother. That was the beginning of many afternoons spent painting together in her grandmother's garden. "My grandmother was an extraordinary woman," Christine says. "Even though she worked in an office all her life, she was an artist through and through. She shared everything she knew about color—in painting and in life. Her wisdom and talent still inspire me today."
She has illustrated many picture books, including Sally Jean, the Bicycle Queen by Cari Best. She lives in Paris, France.
Praise For Piper Reed, Clubhouse Queen…
"Piper's first-person narration will win over many readers with its accessible depiction of family's ups and downs. . . . Davenier's line-and-wash drawings illustrate the episodic story with wry humor." —Booklist