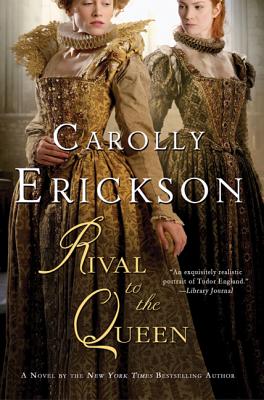 Rival to the Queen
A Novel
Paperback

* Individual store prices may vary.
Other Editions of This Title:
Digital Audiobook (9/27/2010)
Description
From the New York Times bestselling author of The Last Wife of Henry VIII comes a novel about the bitter rivalry between Queen Elizabeth I and her fascinating cousin, Lettice Knollys, for the love of one extraordinary man.
Powerful and dramatic, this is the story of the only woman to ever stand up to the Virgin Queen—her own cousin, Lettice Knollys. Far more attractive than the queen, Lettice soon won the attention of the handsome and ambitious Robert Dudley, a man so enamored of the queen and determined to share her throne that it was rumored he had murdered his own wife in order to become her royal consort. The enigmatic Elizabeth allowed Dudley into her heart, and relied on his devoted service, but shied away from the personal and political risks of marriage.
When Elizabeth discovered that he had married her cousin Lettice in secret, Lettice would pay a terrible price, fighting to keep her husband's love and ultimately losing her beloved son to the queen's headsman. This is the unforgettable story of two women related by blood, yet destined to clash over one of Tudor England's most charismatic men.
Praise For Rival to the Queen: A Novel…
"In her sixth historical novel, Erickson again displays her remarkable ability to paint an exquisitely realistic portrait of Tudor England. . . . This is much more than a historical romance; Erickson's attention to historical detail and the depiction of Elizabeth's struggle to maintain her control over her kingdom make for compelling reading. Fans might also be interested in one or more of Erickson's four Tudor biographies. Historical fiction fans can't get enough of the Tudors; this engaging story is a worthy addition to the genre." —Library Journal
"Erickson turns her attention to the dramatic love triangle that changed history. One man, Robert Dudley, held Elizabeth I's heart and Erickson draws on that love to bring the life of Elizabeth's cousin and rival, Lettie Knollys, to readers. Erickson portrays Elizabeth as a jealous woman, Dudley as a rake and Lettie as the innocent, endearing her to readers. Rival to the Queen gives this forgotten woman a place in history." —RT Book Reviews (4.5 stars)
"Erickson's knowledge and exacting recreation of how it really was in the 1500's is astonishing and adds much to the story. (It also reminds me that royalty of that period is not to be envied.) Beautiful, intelligent and independent, Lettice leads a life of luxury, but because of the times in which she lived and because of her beauty, her life was always lived on the razor's edge. . . . If you are a fan of Carolly Erickson or historical fiction, this book is for you." —Affaire de Coeur
"Erickson writes gracefully." —Publishers Weekly
"The romance between Queen Elizabeth and Robert Dudley is a story that has survived the centuries, but what about the woman who married Robert, Lettice Knollys, Elizabeth's own cousin. . . . A new Carolly Erickson novel is a wonderful and decadent treat, eagerly awaited and Rival to the Queen is no exception. . . . Rival to the Queen shows that political sex scandals and intrigue are not a new thing, and that murder, romance, and power don't mix well for a happy ending. Fans of Alison Weir and Philippa Gregory will want all of Carolly Erickson's books on their shelves, these are definitely novels you don't want to miss out on!" —Night Owl Reviews
"Rival to the Queen is a richly detailed telling of a woman who falls in love with the man whom Elizabeth loves to dangle and toy with. From beginning to end, the life and times of Lettice Knollys is intricately portrayed, from her service at court, throughout her first marriage to Walter Deveraux, and on to the days when she meets and falls in love with Robert. She could easily have died for marrying a man--the queen's favorite!--without Elizabeth's consent, but instead she is banished from court forever. In part, Rival to the Queen is historical fiction blended with nonfiction, with a sprinkling of romance to boot!" —Romance Reviews Today
St. Martin's Griffin, 9780312616977, 336pp.
Publication Date: August 2, 2011
About the Author
Distinguished historian Carolly Erickson is the author of Rival to the Queen, The Memoirs of Mary Queen of Scots, The First Elizabeth, The Hidden Life of Josephine, The Last Wife of Henry VIII, and many other prize-winning works of fiction and nonfiction. Her novel The Tsarina's Daughter won the Romantic Times Reviewer's Choice Award for Best Historical Fiction. She lives in Hawaii.
Did the fictional character of Queen Elizabeth in this novel differ from your expectations? If so, how?
In the novel, Robert Dudley remarks: "We must all dance to the queen's tune." Do you think this was true of every character, or was Lettie the one character who managed to retain her independence of action?
What do you think would have happened to the governance of England had Queen Elizabeth died of the pox? What would have happened to Robert Dudley and Lettie?
What do you believe were the real circumstances surrounding Amy Dudley's death?
In the novel, there is widespread fear of catastrophe in the Year of 1588. Are we still susceptible to such superstitious fears today? Do you hear apocalyptic rumblings in the course of your daily life?
Lettie was a survivor, both in terms of length of life and in terms of her ability to surmount dangers and challenges—the vicissitudes and hazards that life brings. What do you think gave her the ability to survive when so many of those close to the throne were imprisoned or even executed?
Robert Dudley was a flawed hero. In your opinion, did his flaws make him more likable, more human, or were you disappointed in him for not showing more strength and integrity?
In the midst of our own current recession, with all its pressures and stresses, do you find it a relief to read about the fears and trials of people in the distant past?