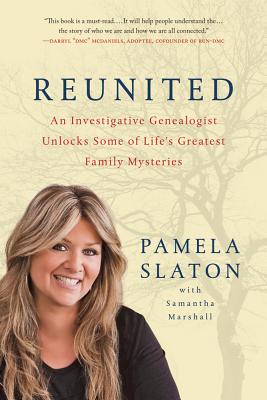 Reunited (Paperback)
An Investigative Genealogist Unlocks Some of Life's Greatest Family Mysteries
Griffin, 9780312617325, 248pp.
Publication Date: May 8, 2012
* Individual store prices may vary.
Description
As seen on "20/20"
In this poignant and heartwarming narrative, renowned genealogist Pamela Slaton tells the most striking stories from her incredibly successful career of reconnecting adoptees with long-lost birth parents
After a traumatic reunion with her own birth mother, Pamela Slaton realized two things: That she wanted to help other adoptees have happier reunions with their birth families, and that she had the unique skill to do so a strong ability to find what others could not.
Reunited shares the riveting stories of some of Pam's most powerful cases from her long career as an investigative genealogist, and the lessons learned along the way. From the identical twins separated at birth, unknowingly part of a secret study on development, to the man who finally met his birth mother just in the nick of time, Reunited is a collection of these unforgettable moments, told by the woman who orchestrated and witnessed them first-hand. Both heartbreaking and inspiring, they will move anyone who knows the true life-affirming power of family.
About the Author
PAMELA SLATON is known as a miracle worker by the nearly 3,000 adoptees she's helped. After founding her own practice and using a never-quit policy to get around restrictive state laws, she has been able to locate 90% of her clients' missing relatives, and has earned a reputation as one of the country's leading investigative genealogists. She helped DMC find his birth parents on Vh1's Emmy-Award-winning documentary My Adoption Journey, and now facilitates powerful reunions from start to finish on her Oprah Winfrey Network show, "Searching For..." Pamela lives in New Jersey with her family.
Praise For Reunited: An Investigative Genealogist Unlocks Some of Life's Greatest Family Mysteries…
Praise for Reunited:
"This book is a must read… It will make all people understand the truth of our existence, the story of who we are and how we are all connected." – Darryl "DMC" McDaniels, Adoptee, Founder of Run DMC
"Pam has created a wonderful and gripping collection of heartfelt stories - bringing you along as she reunites people separated in life by adoption or other circumstances. Finding my birth mother was life changing in so many ways – Pam and her life's work will inspire everyone to reach for the truth." – Cathy Konrad, Adoptee, Golden Globe Award-winning Producer (Walk the Line)
"Reunited is a powerful, page-turning account of Pam's incredible work …. With Pam on your side the door can open, the secrets dissolve. I can't imagine my life without ever knowing the truth of my birth situation. No one starts a book on chapter two – Pam helped me have my chapter one, and for that I am eternally grateful." – Sheila Jaffe, Adoptee, Emmy-award-winning casting director (The Sopranos)
or
Not Currently Available for Direct Purchase