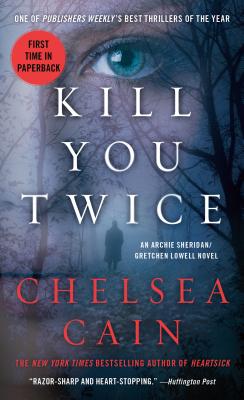 Kill You Twice (Paperback)
An Archie Sheridan / Gretchen Lowell Novel (Archie Sheridan & Gretchen Lowell #5)
Minotaur Books, 9780312619794, 368pp.
Publication Date: July 2, 2013
Other Editions of This Title:
Digital Audiobook (8/6/2012)
Compact Disc (8/7/2012)
Hardcover (8/7/2012)
Pre-Recorded Audio Player (8/7/2012)
Hardcover, Large Print (11/9/2012)
* Individual store prices may vary.
Description
KILL YOU TWICE
Chelsea Cain
Nothing makes Portland detective Archie Sheridan happier than knowing that Beauty Killer Gretchen Lowell is locked away in a psych ward. Archie can finally heal from the near-fatal physical and emotional wounds she's inflicted on him and start moving on with his life. Or can he? His latest case, involving a man who was mutilated and murdered in a public park in broad daylight, bears the stamp of an expert killer…and before long, Archie gets a message from Gretchen, who makes him an offer he can't refuse.
Gretchen claims to have inside knowledge about the grisly Mount Tabor Park murder—and Archie can't risk losing his only lead in the case. At least, that's what he tells himself after he agrees to visit Gretchen…But the ties between Archie and Gretchen have always been stronger, deeper, and more complex than he's willing to admit, even to himself. What game is Gretchen playing this time? And even more frightening, what long-hidden secrets from her past have been dredged up that someone would kill to protect?
About the Author
Chelsea Cain is the New York Times bestselling author of The Night Season, Evil at Heart, Sweetheart, and Heartsick. Both Heartsick and Sweetheart were listed in Stephen King's Top Ten Books of the Year in Entertainment Weekly. Chelsea lived the first few years of her life on an Iowa commune, then grew up in Bellingham, WA, where the infamous Green River killer was "the boogieman" of her youth. The true story of the Green River killer's capture was the inspiration for the story of Gretchen and Archie. Cain lives in Portland with her husband and daughter.
Praise For Kill You Twice: An Archie Sheridan / Gretchen Lowell Novel (Archie Sheridan & Gretchen Lowell #5)…
"Excellent writing…ferocious…refreshing." —Stephen King, Entertainment Weekly
"[Chelsea Cain] creates stories that are razor-sharp in their delivery and heart stopping in their presentation. . . Kill You Twice is one of her best efforts." —The Huffington Post
"Masterful on every level." —Booklist (starred review)
"Utterly engrossing." —Publishers Weekly (starred review)
"The fifth novel to feature Portland detective Archie Sheridan and his nemesis, Gretchen Lowell, delivers the shocks." —Miami Herald
"[Chelsea Cain] wields her words like the sharpest of blades, carving away at reality to create unimaginable horrors. . .Cain writes tense narrative that crackles like the air in a summer thunderstorm, rife with danger." —Louisville Courier Journal
"Cain's talent for gory detail, wry humor, and expertly braiding together plotlines into a fine mesh is a fresh spark of life. Kill You Twice is a taut thriller that will delight and rattle fans and newcomers alike." —Portland Monthly Magazine
or
Not Currently Available for Direct Purchase