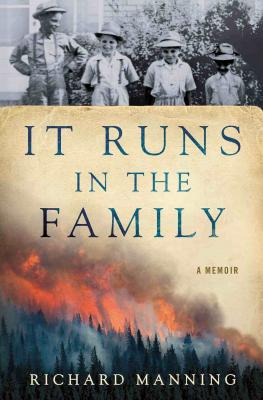 It Runs in the Family (Hardcover)
St. Martin's Press, 9780312620301, 307pp.
Publication Date: July 2, 2013
* Individual store prices may vary.
or
Not Currently Available for Direct Purchase
Description
"It Runs in the Family" is a memoir of faith and willful ignorance, truths and secrets, rural and urban labor, and fire: fire as both knowledge and destructive force.
Richard Manning was raised on a piece of farmland in Michigan, in a working- class family of Christian fundamentalists. Manning's father was a jack of many trades: farmer, carpenter, builder, power lineman, factory worker, small businessman. His mother concealed her own troubled childhood beneath a religious faith that explained away uncertainty, illness, and tragedy.
Manning grew up learning how to work and what to believe---but came to understand his family's seemingly-normal facade as a mask for troubling secrets. "It Runs in the Family" is the story of Manning's journey away from his family, one that ranges from their Michigan farm to the fire-ravaged wilderness of Montana, and finally to a remote village in Panama, where he comes to pursue a past he had vowed to leave behind. Linking his own life with the larger story of his family, the land they inhabited, and the right-wing fundamentalist politics gaining ground in America, Richard Manning offers a singular memoir.
About the Author
RICHARD MANNING is an award-winning author and journalist. He has written seven books, including Rewilding the West: Restoration in a Prairie Landscape, Against the Grain: How Agriculture Has Hijacked Civilization, Food's Frontier: The Next Green Revolution, and Grassland: The History, Biology, Politics, and Promise of the American Prairie. He lives in Helena, Montana.
Praise For It Runs in the Family…
"Richard Manning has written a beautiful literary memoir with the clear-eyed assessment of a journalist. He doesn't spare himself or his family as he examines the American obsession with work, faith, and family, and the way we love and resent them with equal ardor." —Carolyn Briggs, author of Higher Ground: A Memoir of Salvation Found and Lost

"Richard Manning is the West's greatest journalist.  Read this book, and then everything else he has written, and everything he ever will write." —Rick Bass, author of Colter, Why I Came West, and The Wild Marsh

"Richard Manning's work has always been something special, distinguished by its intense passion and its penetrating insights. Whenever we encounter a writer with those qualities, we have to ask what gave birth to them.  It Runs in the Family answers that question. This is a remarkable book, not only an authentically American memoir but a diagnosis of our larger national condition." —George Black, author of Empire of Shadows: The Epic Story of Yellowstone

"As a newsman, Dick Manning set a standard in the West for brave, hard-hitting reporting about the big environmental issues that pit money against the land; and he always spoke for the land, for which the West should be thankful. Now he has produced a sometimes charming, often irascible memoir of family, religion, and journalism that is not for fans of gentle nostalgia. If you like the real stuff, though, with the muscle showing and the details enumerated in the way a fine journalist does it, give It Runs in the Family a try." —John N. Maclean, author of The Esperanza Fire: Arson, Murder and the Agony of Engine 57

"Richard Manning is the most significant social critic in the northern Rockies and short-grass plains. It Runs in the Family tells the blue-collar story of his family, and how he progressed from there to here. It's fearless and incisive while cutting through a lot of nonsense. We're fortunate to have Dick Manning as he continues his demands for fairness while casting light on our future." —William Kittredge, author of Hole in the Sky

"In the first decade of this century, when America's so-called "prayer president" was leading us into oil wars that produced no oil and free markets that resulted in financial meltdown, Amory Lovins nailed the ruling psychosis in eight words: "In God we trust. Everyone else, bring data." In It Runs in the Family Richard Manning goes a step further. In the nation-state's God he does not trust. And with incisive intelligence and shattering, experience-based data, he tells us why, then reveals what he, as a pagan, a brilliant skeptic, and a fierce lover of country, does trust. The result is one of the finest diagnostic memoirs of our time." —David James Duncan, author of The River Why and The Brothers K
Advertisement