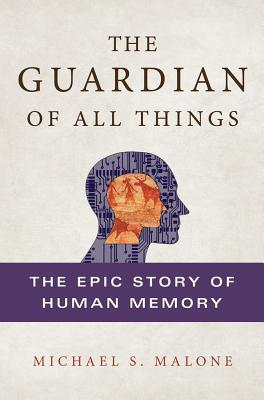 The Guardian of All Things: The Epic Story of Human Memory (Hardcover)
The Epic Story of Human Memory
St. Martin's Press, 9780312620318, 290pp.
Publication Date: August 21, 2012
* Individual store prices may vary.
or
Not Currently Available for Direct Purchase
Description
A fascinating exploration of the history of memory and human civilization
Memory makes us human. No other animal carries in its brain so many memories of such complexity nor so regularly revisits those memories for happiness, safety, and the accomplishment of complex tasks. Human civilization continues because we are able to pass along memories from one person to another, from one generation to the next.
"The Guardian of All Things "is a sweeping scientific history that takes us on a 10,000-year-old journey replete with incredible ideas, inventions, and transformations. From cave drawings to oral histories to libraries to the internet, "The Guardian of All Things "is the history of how humans have relentlessly pursued new ways to preserve and manage memory, both within the human brain and as a series of inventions external to it. Michael S. Malone looks at the story of memory, both human and mechanical, and the historic turning points in that story that have not only changed our relationship to memory, but have also changed our human fabric. Full of anecdotes, history, and advances of civilization and technology, "The Guardian of All Things "is a lively, epic journey along a trajectory of history no other book has ever described, one that will appeal to the curious as well as the specialist.
About the Author
MICHAEL S. MALONE is one of the nation's best-known technology writers. He is the current ABCNews.com "Silicon Insider" columnist and editor-in-chief of the Silicon Valley new site, Edgelings.com. A former "New York Times "columnist, Malone has also contributed numerous articles and editorials to "The Wall Street Journal, The Economist "and "Fortune." He has also authored and co-authored more than a dozen books, notably the best-selling "Virtual Corporation, Bill & Dave "and "The Future Arrived Yesterday. "M alone holds an MBA from Santa Clara University, is an honorary fellow of the Said Business School at Oxford University, and is a Distinguished Friend of Oxford University.
Praise For The Guardian of All Things: The Epic Story of Human Memory…
"Health care costs continue to escalate, and every day the news brings us new or conflicting research about cancer treatments, if salt is actually good for you, how much fat is healthy, what role do your genes play in your health. Readers are looking for ways to take control of their health. They are turning increasingly to mindfulness and food as medicine. In the area of nutrition and diet as ways of managing health, for example, Tana Amen (The Omni Diet) writes extensively on how to reverse illness and influence gene expression with the food you eat." --Marc Andreessen, Web pioneer and venture capitalist
"Ingenious, richly complex account of how humans exchange, record, preserve and manipulate information . . . An original, fascinating scientific history of how human memory and a series of inventions have driven the advance of civilization." --Kirkus, starred review


"Premier technology writer Malone transforms our understanding of memory, human and artificial. After a vivid account of the evolution of the brain, he charts the developments that enabled our ancestors to acquire language, the first step in sharing memories and knowledge. With informed pleasure in the ingenuity involved, Malone deepens our appreciation for the development of increasingly sophisticated forms of memory preservation, organization, and communication while delving into the personalities and lives of both celebrated and forgotten technical visionaries." --Booklist, starred review 

"In this sweeping and ambitious story . . . Malone celebrates the power of memory and the freedom it provides us while at the same time cautioning us to guard our memories and protect the record of our time in the world." --Publisher's Weekly
Advertisement