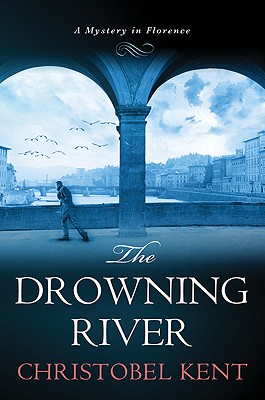 The Drowning River: A Mystery in Florence (Hardcover)
A Mystery in Florence
Minotaur Books, 9780312621018, 320pp.
Publication Date: July 6, 2010
* Individual store prices may vary.
or
Not Currently Available for Direct Purchase
Description
Meet Sandro Cellini, Florence's answer to Donna Leon's Guido Brunetti.
One wet November in Florence, the grieving widow of an eminent Jewish architect comes to visit Sandro Cellini, good husband, disgraced ex-policeman, and recently turned PI, to ask him to investigate her husband's suicide. Cellini takes her on out of sympathy, although this first case makes a downbeat start to his new career. There seems no doubt that Claudio Gentileschi, a Holocaust survivor and lifelong depressive found drowned on a bleak stretch of the River Arno, did take his own life, and initially Cellini imagines that his only duty is to support the widow through her time of mourning.
But as Cellini doggedly retraces the architect's last hours through the worst rains since the devastating floods of 1966, a young Englishwoman is found to have gone missing from the city's community of hard-drinking, high-living art students, and Sandro's search turns abruptly into something grimmer and more urgent than he could have imagined, as he uncovers a network of greed and corruption that is hidden under a veneer of tradition and refinement.
The Drowning River is a spot-on, atmospheric new mystery, the first in a series featuring Cellini.
About the Author
Christobel Kent was born in London and grew up in London and Essex, including a stint on the Essex coast on a Thames barge with three siblings and four step-siblings, before reading English at Cambridge. She has worked in publishing and TEFL teaching, and has lived in Modena, in northern Italy, and in Florence. She has written four novels set in Italy and now lives in Cambridge with her husband and five children.
Praise For The Drowning River: A Mystery in Florence…
"I loved this book and hated putting it down. It manages to be both a taut thriller and a beautifully observed story of a young woman's coming-of-age set in a Florence in full flood. Michael Dibdin meets Muriel Spark."—Allison Pearson, author of I Don't Know How She Does It
"Elaborate and convincing . . . I gobbled it up—how could one help it? Such a potent sense of place and such gripping events." —Diana Athill, author of Somewhere Towards the End and Stet
"Brilliantly evocative." —The Bookseller
"Kent has written an intelligent and convincing thriller with fleshed-out characters you want to meet again." —The Daily Mail
"...the beginning of a potent and promising new series.Kent masterfully builds the suspense to the breaking point... Add the absorbing plot to characters fashioned with care and depth, smooth and polished prose and a detailed and loving portrait of Florence, and you have an accomplished first outing in what has all the marks of a distinguished series." --
Richmond Times-Dispatch
Advertisement