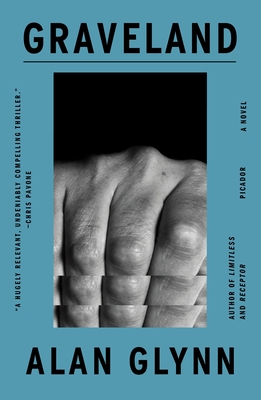 Graveland (Paperback)
Picador USA, 9780312621292, 384pp.
Publication Date: May 28, 2013
* Individual store prices may vary.
or
Not Currently Available for Direct Purchase
Description
Someone is assassinating the financial industry's most powerful players in cold blood and in broad daylight in intricate, eerily relevant new thriller from Alan Glynn, the award-winning author of "Bloodland" and "Limitless."
On a bright Saturday morning, a Wall Street investment banker is shot dead while jogging in Central Park. Hours later, one of New York City's savviest hedge-fund managers is gunned down outside a restaurant. Are these killings a coordinated terrorist attack, or just a coincidence? Investigative journalist Ellen Dorsey has a hunch they're neither, and when an attempt is made on the life of another CEO, her theory is confirmed. The story blows wide open, and as Ellen races to stay ahead of the curve, her path collides with that of a recession-hit architect, Frank Bishop, whose daughter's disappearance may be tied to the murders.
Set deep in a shadow world of corrupt business deals and radical politics with a plot that echoes today's headlines in haunting and unexpected ways "Graveland" is a mind-blowing thriller that intensifies with every page.
About the Author
Alan Glynn is a graduate of Trinity College. His first novel, Limitless, was released as a film in March 2011 by Relativity Media. He is also the author of Winterland and Bloodland.
Praise For Graveland…
"Graveland paints wonderfully detailed characters on the broad canvas of greed, with a plot ripped from as-yet-unwritten but disturbingly credible headlines. A hugely relevant, undeniably compelling thriller." —Chris Pavone, author of The Expats

"Graveland is an excellent novel — smart and edgy, yet possessing real substance and depth.  Glynn is fast becoming one of the best contemporary thriller writers around." —R.J. Ellory, author of Candlemoth and A Quiet Belief in Angels

"Glynn takes the pitch-perfect paranoia and the journalist-as-heromotif of the 1970s and matches them up with crimes that are indelibly contemporary…. Graveland is everything a conspiracy thriller should be: paranoid, tense and ultimately exhilarating." —The Richmond Times-Dispatch

"Hugely impressive…. A book that gleefully surprises at every turn… There are uncanny echoes of  [the] recent Boston events, and Glynn uses his scenarios to cleverly analyze the way the media and social media influence narrative in the twenty-first century, without ever being heavy-handed about it. Disturbing yet utterly engrossing, [Graveland] a very modern, very original and very good thriller indeed." —Doug Johnstone, The Big Issue  

"Graveland proceeds at a rattling pace… A host of disparate characters — among them a pair of radicalized brothers, a bereft father, a crusading journalist, and a Wall Street kingpin — are skillfully interwoven, creating a story that is both a contemporary take on the timeless clash between the powerless many and the powerful few and a commentary on the perception, interpretation and manipulation of the narratives that shape our lives…. An invigorating slice of conspiracy noir, Graveland is simultaneously a heartbreaking account of the human cost of corporate greed." —Declan Burke, The Irish Times


"[Glynn is] a writer with a distinct voice and an extraordinary ability to generate pace and tension… A gripping and cleverly constructed thriller. Suffice to say that, given the terrible and violent events in Boston some weeks ago, it is an eerily prescient read…. Graveland really could have been torn from today's headlines." —The Irish Independent

"Utterly, convincingly unpredictable. This is dark territory, where titans of industry brandish soul-crushing power with ruthless ambition, corrupting the very core of the system that made them rich in the first place." —Kirkus Reviews

"The underbelly of the New York financial scene is uncovered in all of its decidedly unglamorous 'glory' in this timely thriller… The Edgar Award–nominated Glynn's no-frills prose deftly captures the not-so-pretty side of New York's financial elite while serving up a compelling mystery." —Library Journal

"Although Irish, Glynn spent four years in New York City and knows the ways of both its rich and its poor… [and] he clearly knows how to move a plot with many moving pieces…. Timely." —Shelf Awareness


Praise for Bloodland
A Finalist for the Edgar Award (Best Paperback Original)

"Ripped from tomorrow's headlines, Bloodland is irresistible....Exhilarating." —Val McDermid

"Glynn plays out these grand themes—the global economic crisis, America's battle with China for dominance in Africa, the human costs of illegal mining—on a very personal scale, through a group of deeply flawed but compelling characters."—NPR
"Glynn spins a seamless web of conspiracy spanning three continents....I read Bloodland twice, the second time for the rare pleasure of watching a first-rate investigative reporter—and novelist—at work."—The Daily Beast


"Stunningly intricate...like an amped-up twenty-first-century version of Dashiell Hammett's The Glass Key." —Los Angeles Review of Books


"A classic paranoid thriller… In a year of global economic disasters, scandalous political mismanagement and the attempted occupation of various strategic interests by 'the 99%,' Bloodland is a very timely novel indeed." —Declan Burke, January Magazine (A Best Book of the Year)

"Powerfully engaging...A thriller has to thrill. And Bloodland, an intelligent, often thrilling book, delivers."—The Richmond Times-Dispatch

"A tightly woven picture of global corporate influence and corruption. Glynn's work has drawn comparisons to John le Carré… [which] usefully illuminates Bloodland's bold, pointed topicality… From the inauspicious beginnings of a dead reality TV star, Glynn's great novel finds an impressive, surprising scope." —The Portland Mercury
"Scarily plausible in a way that eludes most thriller writers, with an alarmingly authentic case of control freaks and loose cannons… I've not read such a multi-layered, expertly plotted portrayal of arrogance, greed and hubris in a long time—there are, as the publishers claim, echoes of John le Carré, 24 and James Ellroy here, but Glynn's talent is all his own, and his ability to ratchet up the tension is eye-popping."  —The Guardian (London)


Praise for Winterland

"Timely, topical, and thrilling." —John Connolly

"A terrific read...completely involving." —George Pelecanos

"This is the colossus of Irish crime fiction....It is a noir masterpiece, the bar against which all future works will be judged." —Ken Bruen
Advertisement