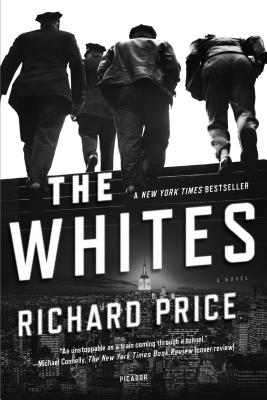 The Whites
A Novel
Paperback

* Individual store prices may vary.
Other Editions of This Title:
Digital Audiobook (2/16/2015)
CD-Audio (2/17/2015)
Paperback, French (3/24/2016)
Description
By the co-writer of the HBO miniseries The Night Of

"A masterpiece, to stand with such earlier Price classics as Clockers and Lush Life . . . [The Whites has] a compelling plot, yet the real joy of the book lies page by page, line by line, in its brilliant characterizations, rich detail, endless surprises, crackling dialogue, [and] absurdist humor." —The Washington Post
Back in the 1990s, when Billy Graves worked in the South Bronx as part of an anti-crime unit known as the Wild Geese, he made headlines by accidentally shooting a ten-year-old boy while stopping an angel-dusted berserker in the street. Branded as a cowboy, Billy spent years in one dead-end posting after another. Now in his early forties, he is a sergeant in Manhattan Night Watch, a team of detectives that responds to all felonies from Wall Street to Harlem between one a.m. and eight a.m.
Billy's work is mostly routine, but when Night Watch is called to the four a.m. fatal slashing of a man in Penn Station, his investigation moves beyond the usual handoff to the day shift. And when he discovers that the victim was once a suspect in an unsolved murder—a brutal case with connections to the former members of the Wild Geese—the bad old days are back in Billy's life with a vengeance.
Praise For The Whites: A Novel…
"As unstoppable as a train coming through a tunnel… [Price] manages to give the story a fierce momentum, one that makes putting this book aside to sleep or eat or do anything else very difficult… This book literally interrupted my professional and personal life. Once in, I had to stay in and stick with it to the end." —Michael Connelly, The New York Times Book Review, cover review
"Riveting… [Price] has a knack for using…detective work the way John le Carré has used spy stories and tradecraft, as a framework on which to build complex investigations into the human soul... No one these days writes with more kinetic energy or more hard-boiled verve… A gripping police procedural and an affecting study in character and fate." —Michiko Kakutani, The New York Times
"A maze of a novel that alternates between scenes of intense introspection and scenes driven by dialogue… It is not, finally, a novel of clearly delineated solutions but a novel of conscience, fraught with ambivalence and ambiguity." —Joyce Carol Oates, New Yorker
"A masterpiece, to stand with such earlier Price classics as Clockers and Lush Life... [The Whites has] a compelling plot, yet the real joy of the book lies page by page, line by line, in its brilliant characterizations, rich detail, endless surprises, crackling dialogue, absurdist humor and panoramic portrait of endless crime breaking over the city like a tsunami." —The Washington Post
"Swift and exciting... The Whites is written by the much-praised novelist Richard Price, under the name Harry Brandt. Mr. Brandt, it is good to discover, is just as fine a writer as Mr. Price." —The Wall Street Journal
"A bravura move.... The poet of the proletariat...paint[s] an unparalleled portrait of modern urban life, with detail as rich as Dickens, and a heart as deep as Dostoyevsky. In a less refracted, distracted age, [Price] would be recognized as perhaps the major novelist of our times." —San Francisco Chronicle
"Terrific... Here's the real magic trick: The Whites is a serious book, with serious points to make, and at times it's almost unbearably sad. But it's also, often, very funny and deeply satisfying." —The Seattle Times
"Richard Price is indeed a master... The Whites is full of the rich characters, spot-on dialogue, grim humor and distinctive insights that animate his other novels, including Clockers and Lush Life.... Price is a New York writer to the core; the raw power of this great city seeps into the lives of his characters as they struggle with grief, betrayal and shame." —The Houston Chronicle
"Price enriches this story of a half-feral band of cops bonded by vengeance with depth, melancholy, and those famously keen eyes and ears." —New York Magazine
"Extraordinary... A riveting crime tale thoroughly steeped in gritty cop irony, cop slang, cop attitudes and cop justice.... The Whites is especially good at capturing New York City's peculiar brand of violent crime." —Newsday
"Seven years is too long for New Yorkers to wait for the next book from Richard Price but he's finally here again with a stunning NYPD novel…The Whites is grippingly immersive, its characters and the world they move through, indelible." —New York Daily News
"A gripping, gritty, Greek tragedy of cops, killers, and the sometimes-blurry line between them… Price is one whale of a storyteller by any name… The author skillfully manipulates [his] multiple story lines for peak suspense, as his arresting characters careen toward a devastating final reckoning." —Publishers Weekly (starred review)
"This is going to be a strong contender for best crime novel of 2015…. With one-of-a-kind characters and settings so real you can smell them, Brandt plunges us into the chaos of domestic life, the true agony of a parent's grief, the cost of secrets kept and revealed. He does it all with indelible phrasing that captures both the black humor of the on-the-job cop and the give-and-take of longtime married couples. While the finely tuned story engine accelerates, it's supercharged with complications…In the end, The Whites isn't about cops and killers so much as it is about the damage we all carry [and] the sins we've all committed." —Booklist (starred review)
"Fasten your seat belt… Old tragedies combine with fresh ones in Brandt's steely-jawed, carefully constructed procedural. Few crime novelists are as good at taut storytelling as Richard Price … In the wake of rage and sorrow, ordinary people respond by going crazy and screwing up. In this far-from-ordinary novel, Price/Brandt explores the hows and whys." —Kirkus Reviews
"The Whites is the crime novel of the year--grim, gutsy, and impossible to put down. I had to read the final 100 pages in a single sitting. I began being fascinated, and ended being deeply moved. Call him Price or Brandt, he knows everything about police life, and plenty about friendship: what your friends do for you…and what they sometimes do to you." —Stephen King
"Whether you call it a crime novel or a mystery novel or a giraffe with polka dots is largely irrelevant--The Whites is, simply put, a great American novel." —Dennis Lehane
"This is high-octane literature, with the best of Richard Price and his souped-up pseudonym Harry Brandt. Price/Brandt gets to the heart of those stories that everyone else refuses to tell. The Whites manages to patrol New York and deepen our sense of the city and all its dark corners." —Colum McCann
"Richard Price isn't fooling anybody with this Harry Brandt business; only he could have written The Whites. It has everything that makes his novels so wonderful--the dark humor, the intricate interleaving of character and plot, the deep research into the science of the streets, the moral gravity and the flawless, magical dialogue. Indeed the only credible thing to be said about Harry Brandt is that he has written one of Richard Price's best books yet." —Michael Chabon
Picador, 9780312621308, 352pp.
Publication Date: February 9, 2016
About the Author
Richard Price is the author of several novels, including Clockers, Freedomland, and Samaritan. He won a 2007 Edgar Award for his writing on the HBO series The Wire.

Harry Brandt is the pen name of acclaimed novelist Richard Price, whose eight previous novels—including Clockers and Lush Life—have won universal praise for their vividly etched portrayals of urban America. He lives in Manhattan with his wife, the novelist Lorraine Adams.
Coverage from NPR
or
Not Currently Available for Direct Purchase