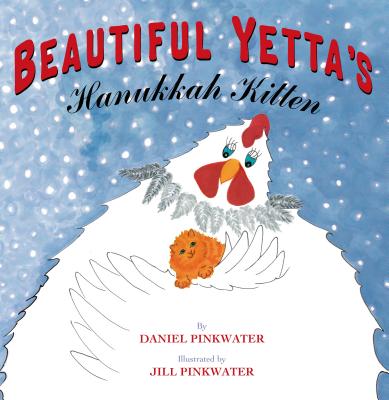 Beautiful Yetta's Hanukkah Kitten
Hardcover

* Individual store prices may vary.
Description
Yetta, beautiful Yetta, manages to escape from the butcher's shop. But now she is lost in Brooklyn—a strange place filled with rude rats and dangerous buses!
!??????
geVAHLT!
Oh, dear!
But then, brave Yetta saves a small green bird from a sneaky cat, and his friends, the wild parrots of Brooklyn, are very grateful.
¡Muchas gracias, gallina hermosa!
¡mooCHAS grahSEEas, gahYEEna ehrMOsa!
Thank you very much, beautiful chicken!
Has beautiful Yetta found her new home?
Inspired by real events, this multilingual story by Daniel Pinkwater is a witty, warm, and wonderful read-aloud for any age.
Praise For Beautiful Yetta's Hanukkah Kitten…
"This is a book that begs to be read aloud." —School Library Journal
"Jill Pinkwater's bright, freestyle drawings are as bighearted and chatty as the multilingual, multispecies text." —Publishers Weekly
"The Pinkwaters have crafted a tale of friendship and caring, this time with a festive holiday touch . . . A Hanukkah gift for readers and eaters." —Kirkus Reviews
"It's classic Pinkwater: funny, weird, touching, and all about the joys of being sideways to reality...Daniel Pinkwater is a genius." —Cory Doctorow on Beautiful Yetta
"Fresh and nostalgic, the story is told in three languages--English, Yiddish (Yetta's native tongue, so to speak) and Spanish (those real-life Brooklyn parrots had to come from somewhere). Pluck is really the name of the game." —The San Francisco Chronicle on Beautiful Yetta
Feiwel & Friends, 9780312621346, 32pp.
Publication Date: October 14, 2014
About the Author
Daniel Pinkwater
is the author and sometimes illustrator of more than 80 (and counting) wildly popular books. These books include
Beautiful Yetta: The Yiddish Chicken
,
5 Novels
,
The Yggyssey
,
Lizard Music
and
Adventures of a Cat-Whiskered Girl
. He is also an occasional commentator on National Public Radio's All Thing Considered and appears regularly on Weekend Edition Saturday, where he reviews exceptional kids' books with host Scott Simon. Daniel also contributes to
Wondertime
, and has in the past been spotted on the pages of
The New York Times
Magazine,
OMNI
, and many other fine publications. In collaboration with Tony Auth, Daniel wrote an unfortunately short-lived comic strip, NORB, which was critically acclaimed by Jules Feiffer and Chaim Potok, and no one else. (It was really good, though.) Born in Memphis, Tennessee, Pinkwater grew up in Memphis, Chicago and Los Angeles, and studied art at Bard College. He lives in New York.
Jill Pinkwater is an award-winning author and illustrator who has collaborated with Daniel Pinkwater on many fine books, including The Hoboken Chicken Emergency and Beautiful Yetta's Hanukkah Kitten. They've also worked together on "Superpuppy," the world's best guide to owning and caring for a canine companion.
Comprising the collection of much-loved novels Jill has written are Cloud Horse, The Disappearance of Sister Perfect, Buffalo Brenda, Tails of the Bronx, and Mr. Fred.
or
Not Currently Available for Direct Purchase