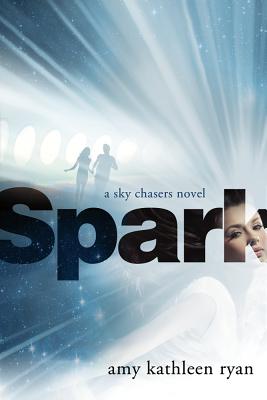 Spark
Book Two of the Sky Chasers
Hardcover

* Individual store prices may vary.
Other Editions of This Title:
Digital Audiobook (7/16/2012)
Compact Disc (7/17/2012)
Paperback (5/14/2013)
Description
Waverly, Kieran and Seth are in a race against time – and with the future of humanity hanging in the balance, there's no room for mistakes…

After a desperate escape from the enemy ship, Waverly has finally made it back to the Empyrean. The memory of home has been keeping her alive for the past months… but home is nothing like she left it. Forced to leave their captive parents behind on the New Horizon, she's returned only to find that Kieran has become a strict leader and turned the crew against Seth. What happened to the Kieran she thought she knew? Now Waverly's not sure whom she can trust. And the one person she wants to believe in is darkly brilliant Seth, the ship's supposed enemy. Waverly knows that the situation will only get worse until they can rescue their parents – but how?
Before they have time to make a plan, an explosion rocks the Empyrean, and Seth and Waverly are targeted as the prime suspects. Can they find the true culprit before Kieran locks them away… or worse? Will Waverly follow her heart, even if it puts lives at risk? Now more than ever, every step could bring them closer to a new beginning – or a sudden end.
Spark is book two in Amy Kathleen Ryan's thrilling young adult science fiction series Sky Chasers.
Praise For Spark: Book Two of the Sky Chasers…
"The sequel to Glow delivers a page-turning plot while delving deeper into questions of leadership, trauma and violence….Readers hungry for the next installment will have plenty to ponder in the meantime." —Kirkus Reviews on Spark
"Glow captivated me from start to finish. The action-packed narrative and the characters' struggle to survive without losing their humanity make for a compelling read." —Alexandra Adornetto, New York Times bestselling author of Halo, on Glow
"Utterly engrossing. Dinner went uncooked, children were left to fend for themselves, and dog howled all night, because I COULD NOT PUT IT DOWN." —Lauren Myracle, New York Times bestselling author of ttyl and Shine, on Glow
"GLOW has an ingenious, twisty, heart-stopping plot, and characters that are in turns both sympathetic and sinister all the way to the last page – I don't know who I can trust, and I love it!" —Lisa McMann, New York Times bestselling author of the WAKE trilogy, on Glow
"This swift-moving epic is filled with plot twists and enigmatic characters... Fans of the Hunger Games series will zip through and clamor for the next installment." —Booklist on Glow
"A super-exciting plot... Plus, the mysterious ending left us anxious for the next installment! You'll love it if... you love futuristic post-apocalyptic stories, like The Hunger Games!... Ideal for fans of action books and stories of survival." —Seventeen.com on Glow
"A fascinating and thrilling story that is sure to captivate teens. The themes of survival, morality, religion, and power are well developed, and the characters are equally complex.... This gripping first installment is difficult to put down, and successfully sets the stage for the rest of the series." —School Library Journal (Starred Review) on Glow
"The opening salvo in a promising series." —People Magazine on Glow
"No less than the fate of humanity is at stake in Ryan's rich and emotional sci-fi tale... an entertaining read featuring hairy action sequences and a female antagonist on par with the literary likes of Nurse Ratched or Dolores Umbridge." —USA Today on Glow
"By the end, you'll be desperate for the sequel. [Ryan] throws together a host of moral issues and then launches them into outer space! I'm looking forward to the next book..." —RT Book Reviews on Glow
"Get some snacks and prepare to stay up all night because GLOW is a tense and riveting look at the social power of fear and jealousy. Killer suspense, complicated characters and explosive plot twists made this book so much more than a space story. It's an unputdownable test of nerves, and we want our fingernails back." —Justine Magazine on Glow
"With a compelling plot and complicated characters you love to hate and hate to love, Glow will capture readers." —April Henry, New York Times bestselling author of Girl, Stolen and Learning to Fly, on Glow
"GLOW has it all – intrigue, action, suspense and romance set against a jaw-dropping futuristic backdrop. Amy Kathleen Ryan has woven a thought-provoking and compelling novel that readers will be hard-pressed to put down. I couldn't! This is a thrilling read." —Courtney Summers, author of Fall for Anything and Cracked up to Be, on Glow
St. Martin's Griffin, 9780312621353, 320pp.
Publication Date: July 17, 2012
About the Author
AMY KATHLEEN RYAN earned an MA in English Literature at the University of Vermont, and an MFA in Creative Writing from the New School Creative Writing for Children Program in New York City. She is the author of Glow, Spark, and Flame and Zen and Xander Undone and Vibes.