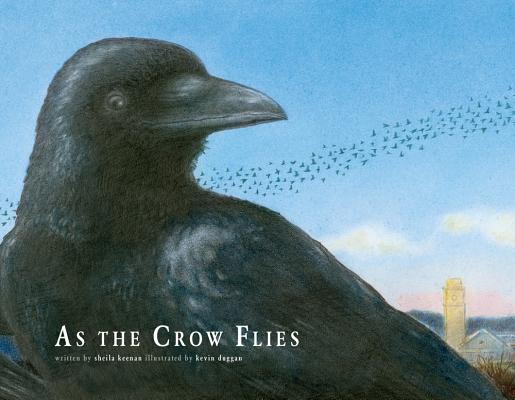 As the Crow Flies (Hardcover)
A Picture Book
Feiwel & Friends, 9780312621568, 40pp.
Publication Date: September 18, 2012
* Individual store prices may vary.
Description
All day long, you're on the go.
You don't have time to watch a crow.
But we're here . . . and here . . . and there.
We poke our beaks in everywhere.

Crows can be noisy. They can be nosy and bold, too, which some people find annoying. But if you are lucky enough to live in a place where crows roost, you know they can also be funny, ingenious, and beautiful.
Beautiful to look at and fun to read aloud, this book created by Sheila Keenan and Kevin Duggan will make imaginations soar as high as the crow flies.
About the Author
Sheila Keenan is an established author of fiction and nonfiction, including Greetings from the 50 States; Animals in the House: A History of Pets and People; O, Say Can You See? America's Symbols, Landmarks, and Inspiring Words; and Gods, Goddesses, and Monsters: A Book of World Mythology. Her book, Dogs of War, is a graphic novel of historical fiction based on the role of dogs in the military.

Kevin Duggan's work draws inspiration from the great natural history artists of the past, while seeking new insights into the plants and animals we coexist with. His work has been exhibited from Nantucket to Fifth Avenue, Manhattan; from Marfa, Texas, to the Kew Royal Botanic Gardens in London. He is a member of the Brooklyn Botanical Garden's Florilegium Society. As the Crow Flies is his first book.
Praise For As the Crow Flies: A Picture Book…
"First-time illustrator Duggan's images mix static calm with dynamism, tranquil cityscapes with speeding cars. His portraits of crows and their antics are faithful and careful, and he makes especially effective use of panels to convey sequences of events. It's more of a naturalist's journal than a nonfiction reference--the scenes were inspired by crow behavior the husband-and-wife team witnessed firsthand. . . .Readers should look more closely at crows after they read Keenan and Duggan's book, but not before lingering over the illustrations." —Publishers Weekly
"Keenan and Duggan have created a dandy introduction to the raucous birds. Speaking in short, rhyming couplets, the avian narrator walks readers through an urban neighborhood as it explains how crows steal food, mess up car windows, and keep warm by flying through the city calling loudly during daylight hours, then roosting together in leafless trees on cold fall and winter nights. . . .This lovely example of picture-book design–a beautiful meld of text and illustrations–deserves a place on both school and public library shelves." —School Library Journal
"A helpful addition to the nature shelf, especially for its uncommon focus on urban birds." —Kirkus
"This could be useful as an introduction to a nature study lesson or as a poetic part of a bird-themed story session." —BCCB