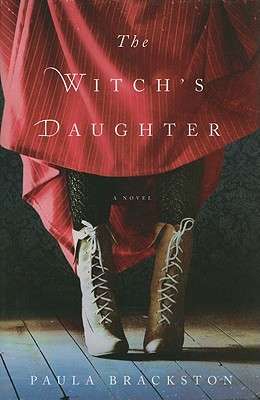 The Witch's Daughter (Hardcover)
Thomas Dunne Books, 9780312621681, 320pp.
Publication Date: January 18, 2011
Other Editions of This Title:
Digital Audiobook (12/17/2012)
Paperback (1/31/2012)
CD-Audio (12/2/2014)
* Individual store prices may vary.
Description
My name is Elizabeth Anne Hawksmith, and my age is three hundred and eighty-four years. Each new settlement asks for a new journal, and so this Book of Shadows begins…
In the spring of 1628, the Witchfinder of Wessex finds himself a true Witch. As Bess Hawksmith watches her mother swing from the Hanging Tree she knows that only one man can save her from the same fate at the hands of the panicked mob: the Warlock Gideon Masters, and his Book of Shadows. Secluded at his cottage in the woods, Gideon instructs Bess in the Craft, awakening formidable powers she didn't know she had and making her immortal. She couldn't have foreseen that even now, centuries later, he would be hunting her across time, determined to claim payment for saving her life.
In present-day England, Elizabeth has built a quiet life for herself, tending her garden and selling herbs and oils at the local farmers' market. But her solitude abruptly ends when a teenage girl called Tegan starts hanging around. Against her better judgment, Elizabeth begins teaching Tegan the ways of the Hedge Witch, in the process awakening memories--and demons--long thought forgotten.
Part historical romance, part modern fantasy, The Witch's Daughter is a fresh, compelling take on the magical, yet dangerous world of Witches. Readers will long remember the fiercely independent heroine who survives plagues, wars, and the heartbreak that comes with immortality to remain true to herself, and protect the protégé she comes to love.
About the Author
Paula Brackston is the author of a travel book, "The Dragon's Trail." She has an MA in Creative Writing from Lancaster University in the UK, and her autobiographical writing has been published in several anthologies. She lives halfway up a Brecon Beacon with her partner and their two children.
Praise For The Witch's Daughter…
"Lushly written with a fascinating premise and an enthralling heroine, The Witch's Daughter will linger long in memory after the last page has been savored.  Highly recommended." -- Sara Poole, author of The Borgia Betrayal
"A beautifully written, brilliantly crafted page-turner that completely invests you in the lives and loves of the witch's daughter. A true reading event." --Melissa Senate, author of
The Love Goddess' Cooking School
 "A lyrical and spell-binding time travel fantasy featuring an immortal witch who must summon all her powers to defeat the evil hounding her through the centuries." –Mary Sharratt, author of
Daughters of the Witching Hill
 "Brackston's first novel offers well-crafted characters in an absorbing plot and an altogether delicious blend of historical fiction and fantasy." --
Booklist


"This pleasantly romantic historical fantasy debut flips lightly between the past experiences of ageless witch Elizabeth Anne Hawksmith and her present-day life in Matravers, England... Bess's adventures are fascinating." --
Publishers Weekly


"With her first novel, author Paula Brackston conjures up a riveting tale of sorcery and time travel. By mixing feminine heroism with masculine might, Brackston successfully captivates readers with characters Bess, an immortal witch, and sinister dark lord, Gideon….  It's almost impossible not to root for the underdog in this magical twist on the classic David vs. Goliath tale. Plus, the skill with which Brackston weaves her characters through time makes this book a fascinating take on global history." –
Marie Claire


"Stretching her tale over several centuries, British-based Brackston brings energy as well as commercial savvy to her saga of innocence and the dark arts….  History, time travel and fantasy combine in a solidly readable entertainment." --
Kirkus

 "An engaging, well-written novel that will appeal to fans of historical fiction and fantasy alike." --
Portland Book Review
"Part historical romance, part modern fantasy, The Witch's Daughter is a fresh, compelling take on the magical, yet dangerous world of witches. Readers will long remember the fiercely independent heroine who survives plagues, wars, and the heartbreak of immortality to stay true to herself, and protect the protégé she comes to love." --NightOwlReviews.com

"The Witch's Daughter is a wonderful combination of historical fiction and paranormal. Brackston's story alternates between past and present as she mixes tales of Elizabeth's early life with the present day, tying in historical events including Jack the Ripper and the horrors of WWI... Overall, a really enjoyable read." --BookBitch.com

"Readers who enjoy historical fantasy built around an epic struggle between good and evil should enjoy this original take on the theme." --HistoricalNovels.info

"An enjoyable read." --Genre Go Round Reviews 
"This tale spans centuries and walks the line between good and the darker side of magic.  Magic and those who possess it have been feared and persecuted throughout most of human history.  Find out what it is like to live for hundreds of years, mostly in solitude, and have to struggle with having the power to help people, but being afraid to use that power." --Affaire de Coeur
"Women will certainly love the independent, feisty female characters, but the narrative is wonderfully imaginative and the plot fast-moving and filled with action. This novel is highly recommended for witches and warlocks alike." –Historical Novel Society
"The combination of stories from the past and the present meld nicely, and the author adds some clever twists so the reader never knows exactly from whom the next Gideon apparition will arise. Perhaps the best twist is the ending--leaving an opening for another book, but at the same time furnishing the reader with quite a satisfactory ending." --The National Examiner (UK)
or
Not Currently Available for Direct Purchase