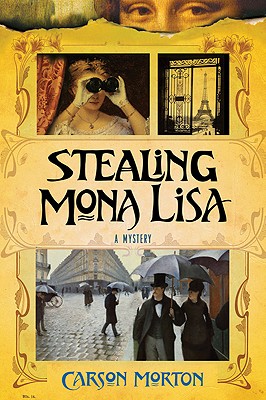 Stealing Mona Lisa (Hardcover)
A Mystery
Minotaur Books, 9780312621711, 340pp.
Publication Date: August 2, 2011
Other Editions of This Title:
Paperback (10/30/2012)
Hardcover, Large Print (2/15/2012)
* Individual store prices may vary.
Description
A "Kirkus Reviews'" Best of 2011 Fiction and a "Library Journal" Best Mystery of 2011
What happens when you mix a Parisian street orphan, a hot-tempered Spanish forger, a beautiful American pickpocket, an unloved wife, and one priceless painting?
The charming Eduardo de Valfierno makes a very respectable living in Argentina fleecing the nouveau rich they pay him to steal valuable pieces of art, and Valfierno sells them flawless forgeries instead. But when Eduardo meets the beautiful Mrs. Hart on his latest con, he takes a risk that forces him back to the city he loved and left behind Paris. There he assembles his team of con artists for their final and most ambitious theft, one that will enable them to leave the game forever: The Mona Lisa.
But when a member of the team turns up missing, and Mr. Hart shows up in Paris, Valfierno and his crew must stay one step ahead of a relentless police inspector, endure a devastating flood, and conquer their own doubts to keep the priceless painting in play and survive.
Based on the actual theft of the Mona Lisa from the Louvre in 1911, and published on the 100th anniversary of the crime, "Stealing Mona Lisa "is a sophisticated, engaging caper, complete with a richly imagined group of con artists and a historical mystery that will keep you guessing until the very end.
"Stealing Mona Lisa "is a Kirkus Reviews Best of 2011 Mysteries title.
One of "Library Journal"'s Best Mystery Books of 2011.
About the Author
CARSON MORTON was born in London, England and moved with his family to the United States when he was eleven. He worked as a professional musician for many years, making an album for United Artists Records with his group Razmataz, and playing with the likes of John Sebastian, Billy Preston, and many others. He is a screenwriter and published playwright, and has worked in television as a consultant and composer. He lives in Nashville, Tennessee.
Praise For Stealing Mona Lisa: A Mystery…
"An evocative and engaging reworking of the famous Valfierno myth and the theft of the world's most famous painting.  Morton writes beautifully and transports us to an Art Deco world of intriguing criminals." --Noah Charney, author of The Art Thief and Stealing the Mystic Lamb
"An intriguing and captivating story about a great scam with a twist in the world of con artists, art forgery and mystery." --Frank W. Abagnale, New York Times bestselling author of Catch Me If You Can
"Historical fans will welcome professional musician Morton's first novel … Morton smoothly blends fact and fiction while evocatively exploring the era's seamy underbelly." --Publisher's Weekly
"With all the careful brushstrokes of a classic, Morton gives us a historical tale of deception and theft surrounding the actual 1911 theft of Leonardo da Vinci's Mona Lisa. This delightful caper is told from the point of view of Marquis Eduardo de Valfierno, now on his deathbed, several years later … Suspense builds steadily as we hold our breath, waiting to see if all the moving parts can make this audacious endeavor succeed. You'll never look at museum art in quite the same way. Great characters, a captivating tale, and vivid descriptions of old Paris make this debut a pleasurable read. Morton's screenwriter/playwright background ensures sparkling dialog. Bring out the popcorn and settle in for excitement, thrills, and tension. Tremendous crossover appeal for historical fiction (think Susan Vreeland) and romance readers, too." --Library Journal, starred review
 "Like La Jaconde, Carson's debut novel is set in an elegant frame – a newspaper reporter wrests story from the dying Valfierno – that still isn't as finely crafted as what lies inside." –Kirkus Reviews, starred review
"Based on the actual theft of the Mona Lisa in 1911, Morton's first novel is a canny heist story with fine characterizations and skillful plotting, and it isn't hurt one bit by all the shimmering Parisian ambience. This entertaining caper may leave readers wondering about the authenticity of the art on the museum walls." --Booklist
"The visual writing is one of the novel's greatest strengths. Well-crafted, beautifully written, and engaging mystery. The pacing is superb … Carson Morton is, quite frankly, a masterful storyteller." –New York Journal of Books
"Morton's powers of description, in both the time frame and setting, really bring you to the center of Paris and make you believe in the events. His skill with dialogue is impeccable, reflecting the gentlemanly (and con man-ly reserve of Valfierno), and contrasting it with the impetuosity of the thief Julia. Overall, this is a first-rate historical novel and a fascinating crime story. If the theft of Mona Lisa didn't actually happen this way, one kind of wishes that it had." –Bookgasm, Mark Rose
"Stealing Mona Lisa by Carson Morton provides all the elements of a good caper. Thanks to Morton for the wink he gives us at the end of this caper.  We want to clap our hands and laugh. If you are looking for a fun read to round out your summer at the beach, coming all too soon to an end, I can recommend Morton's fictional reconstruction of actual and reported characters and events surrounding the theft and disappearance of the Mona Lisa from 1911-13." –Washington Independent Book Review, Deborah Vink
"A work of art – quite literally" –Richmond Times-Dispatch
or
Not Currently Available for Direct Purchase