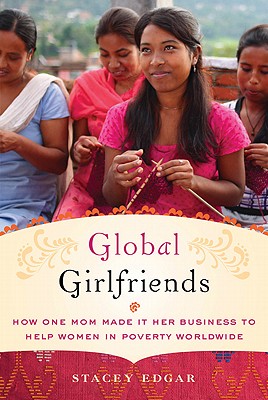 Global Girlfriends: How One Mom Made It Her Business to Help Women in Poverty Worldwide (Hardcover)
How One Mom Made It Her Business to Help Women in Poverty Worldwide
St. Martin's Press, 9780312621735, 304pp.
Publication Date: April 12, 2011
* Individual store prices may vary.
or
Not Currently Available for Direct Purchase
Description
Start small, dream big, change lives— how one woman harnessed the power of fair trade to help women in poverty help themselves
Seven years ago, Stacey Edgar had a $2,000 tax return and a deep desire to help provide economic security for women in need. She knew that of the 1.3 billion people living on less than $1 per day, seventy percent are women. What she didn't have was a business plan. Or a passport. But that didn't stop her from creating a socially conscious business that has helped poor women in five continents feed their families and send their children to school. Global Girlfriend has since grown into a multi-million dollar enterprise that specializes in handmade, fairly traded, ecoconscious apparel, accessories, and items made by women all over the world.
Global Girlfriends
is Stacey's inspiring story of following her convictions, as well as her passionate argument for simple actions we can all take to eliminate extreme poverty. Stacey Edgar refused to be paralyzed by the size of world poverty; she started by taking several small steps, personal responsibility firmly in hand, and never looked back.
About the Author
STACEY EDGAR started Global Girlfriend in 2003 as a way to provide economic security for women in need by creating a sustainable market for their products. Stacey has been honored by the Microsoft Corporation as a recipient of the company's "Start Something Amazing" awards, and is a sought-after speaker on the topics of women in the global economy, fair trade, sex trafficking, market and enterprise development, cause marketing, entrepreneurship, and parlaying your passion into your career. She lives in Colorado with her family.
Praise For Global Girlfriends: How One Mom Made It Her Business to Help Women in Poverty Worldwide…
"Stacey Edgar's Global Girlfriends is a heartening story of big dreams and small steps. Tireless and passionate, Edgar has forged ahead with a beguiling combination of head and heart to create a business model that works for rich and poor alike, linking together women from around the world. Global poverty, like so many seemingly insurmountable problems, can be tackled one girlfriend at a time."
--Pietra Rivoli, author of Travels of a T-shirt in the Global Economy
"Global Girlfriends is an inspiring book by an inspiring woman.  Stacey Edgar takes us on a journey from her suburban American basement to some of the most impoverished areas of the world with humor, humility, and an unwavering sense of purpose.  Her story proves that one person's drive, passion, and commitment can make a real impact in the struggle to eradicate global poverty and empower women around the world."
--Greg Mortenson, New York Times bestselling author of Three Cups of Tea and Stones into Schools
"Stacey's story of starting Global Girlfriend is a wonderful example of the incredible change that one person can make with small but persistently bold steps. Being a changemaker has nothing to do with having fancy degrees, lots of resources, or being an 'expert' in philanthropy or business. Every one of us has the capacity to create something special... it just takes creativity and the willingness to face your fears - both of failure and success. If you're looking for inspiration, this book is definitely worth a read." 
--Blake Mycoskie, Founder & Chief Shoe Giver, TOMS Shoes 
"In my work and travels I have been amazed by the ability of women to change not only their own lives, but the lives of their families, and communities as well.  I am convinced that no village, community, or town on this planet can be changed for the better without involving the local women.  Miss Edgar's story is a beautiful example of what one woman from the west can do to improve the lives of thousands worldwide simply by following her heart.  Her idea is simple; help women pull themselves out of poverty and they will pull those around them out as well. However, her story is nothing short of amazing and it will inspire even the most timid of dreamers to get out and try their hand at making a difference in the world."
--Doc Hendley, President & Founder, Wine to Water
Advertisement