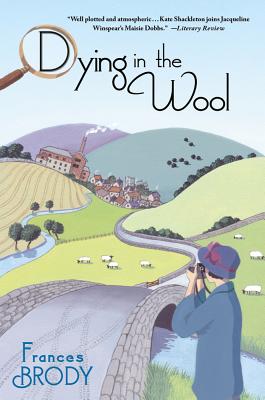 Dying in the Wool (Hardcover)
Minotaur Books, 9780312622398, 356pp.
Publication Date: February 14, 2012
Other Editions of This Title:
Paperback (1/22/2013)
Compact Disc (2/14/2012)
MP3 CD (2/14/2012)
Pre-Recorded Audio Player (2/14/2012)
MP3 CD (9/1/2010)
Compact Disc (9/1/2010)
Analog Audio Cassette (9/1/2010)
Hardcover, Large Print (6/22/2012)
* Individual store prices may vary.
Description
"Well-plotted and atmospheric Kate Shackleton joins Jacqueline Winspear's Maisie Dobbs." --"Literary Review "
Take one quiet Yorkshire village
Bridgestead is a peaceful spot: a babbling brook, rolling hills and a working mill at its heart. Pretty and remote, nothing exceptional happens
Add a measure of mystery
Until the day that Master of the Mill Joshua Braithwaite goes missing in dramatic circumstances, never to be heard of again.
A sprinkling of scandal
Now Joshua's daughter is getting married and wants one last attempt at finding her father. Has he run off with his mistress, or was he murdered for his mounting coffers?
And Kate Shackleton amateur sleuth extraordinaire
Kate Shackleton has always loved solving puzzles. So who better to get to the bottom of Joshua's mysterious disappearance? But as Kate taps into the lives of the Bridgestead dwellers, she opens cracks that some would "kill" to keep closed
About the Author
Frances Brody lives in the North of England, where she was born and grew up. Frances started her writing life in radio, with many plays and short stories broadcast by the BBC. She has also written for television and theatre. Before turning to crime, she wrote sagas, winning the HarperCollins Elizabeth Elgin award for most regionally evocative debut saga of the millennium.
Praise For Dying in the Wool…
Praise for Dying in the Wool
"The first in a planned series introduces a refreshingly complex heroine and adds a fine feeling for the postwar period." --
Kirkus
 "This well-plotted and atmospheric tale is enriched by technical expertise and a vividly imagined Yorkshire setting.  Kate Shackleton joins Jacqueline Winspear's Maisie Dobbs in a sub-group of young female amateur detectives who survived and were matured by their wartime experiences…. They make excellent heroines." --
Literary Review
"Dying in the Wool has a winning heroine, a fresh and fascinating setting, richly detailed and well-woven into the plot, and a mystery that twists and tightens and twists again, before pulling together to a surprising and satisfying solution." --Catriona McPherson, author of Dandy Gilver and the Proper Treatment of Bloodstains
"Reminiscent of Dorothy L. Sayers and Agatha Christie with a thoroughly likeable protagonist and a plot that held me to the end." --Mignon F. Ballard, author of the Miss Dimple Kilpatrick Mystery Series
"Brody, who has written historical fiction, presents a carefully researched setting, with accurate references to the popular culture of the day and clear explanations of the dyeing and weaving processes at the mill." --
Booklist
"Excellent.... Ms. Brody does an excellent job of keeping the reader on the edge of their seat. DYING IN THE WOOL has a lot of unanticipated twists and turns. I was completely surprised at the end! There were so many ways the story could have gone. Cheers to the author for keeping us in suspense until the very last pages.  I can't wait to read more Kate Shackleton! This is a series I am definitely hooked on." -- historyundressed.blogspot.com
"Brody's winning tale of textile industry shenanigans is shot through with local color." –The Independent (UK)
 "Highly entertaining… Frances Brody writes with charm and yet knows how to keep the reader guessing at every stage of the book. If you like pure detective novels you will love this." --Gazette & Herald (UK)
"The story, with its secure setting in the richly-detailed woollen industry, is an excellent read.  The characterization is strong and convincing and the sense of period well conveyed."-- Mystery Women
"The background detail of milling and dyeing is spot on … as is her ear for the West Riding accent and dialect. The plot twists nicely and the denouement was, to me, unexpected." --Country Life
"This is whimsical, colorful stuff and readers will warm to the entrepreneurial yet fragile Kate." –Take a Break
"Kate Shackleton is a delightful leading character.  The flavor of First World War England is beautifully portrayed.  The world of the mill and the mill owner has gone, but in this book it is easy to image what it must have been like…. [Kate's] aristocratic connections give the story a whiff of Wimsey and a touch of Christie, but mostly this is just an enjoyable and gripping mystery story with a nasty sting in the tail." --CrimeSquad.com
"Dying in the Wool is a delightful book… the descriptive detail of the countryside and small village of Bridgestead is so vivid I could literally have been there.  Kate Shackleton is a wonderful character and I connected with her immediately. She's a very determined soul in a time when women were still treated as second class citizens…. A very gentle book, but with a lot of substance." – BookChickCity.com
 "The 1920s are a fascinating and under-used period for new crime fiction, so it's a particular pleasure to have Frances setting her story at that time. Kate Shackleton is a splendid heroine … I'm looking forward to the next book in the series!"--Ann Granger
or
Not Currently Available for Direct Purchase