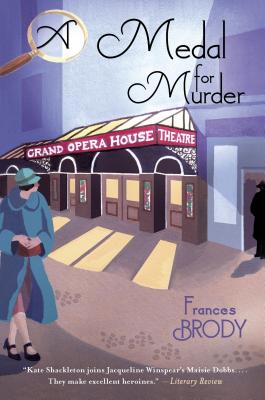 A Medal for Murder (Hardcover)
Minotaur Books, 9780312622404, 424pp.
Publication Date: February 12, 2013
Other Editions of This Title:
Paperback (1/14/2014)
MP3 CD (2/12/2013)
Compact Disc (2/12/2013)
Hardcover, Large Print (6/26/2013)
MP3 CD (9/1/2012)
Compact Disc (9/1/2012)
Analog Audio Cassette (9/1/2012)
* Individual store prices may vary.
Description
"Kate Shackleton joins Jacqueline Winspear's Maisie Dobbs They make excellent heroines." --"Literary Review"
Frances Brody's "refreshingly complex heroine" ("Kirkus Reviews"), picks up a case that takes her to the refined streets of 1920s Harrogate in "A Medal for Murder"
A pawn-shop robbery
It's no rest for the wicked as Kate Shackleton picks up her second professional sleuthing case. But exposing the culprit of a pawn-shop robbery turns sinister when her investigation takes her to Harrogate - and murder is only one step behind ...
A fatal stabbing
A night at the theatre should have been just what the doctor ordered, until Kate stumbles across a body in the doorway. The knife sticking out of its chest definitely suggests a killer in the theatre's midst.
A ransom demand
Kate likes nothing better than a mystery - and nothing better than solving them. So when a ransom note demands 1,000 for the safe return of the play's leading lady, the refined streets of Harrogate play host to Kate's skills in piecing together clues - and luring criminals out of their lairs
About the Author
FRANCES BRODY lives in the North of England, where she was born and grew up. Frances started her writing life in radio, with many plays and short stories broadcast by the BBC. She has also written for television and theatre. Before turning to crime, she wrote sagas, winning the HarperCollins Elizabeth Elgin award for most regionally evocative debut saga of the millennium.
Praise For A Medal for Murder…
Praise for A Medal for Murder
"Brody again displays her prodigious talent for misdirection, tempered by her fair play with clues that render the possibility that the reader will not be fooled. But don't bet on it…. Steeped in period color, A Medal for Murder again showcases a winning heroine and a clever plot, a combination reminiscent of the genre's golden age but one made fresh and gripping by an author who melds murder with mercy." –Richmond Times-Dispatch
"Brody's excellent second offers a morally conflicted sleuth, historically detailed flashbacks to the Boer War and a clever mystery indeed." --Kirkus
"This lusciously written historical cozy is an excellent addition to the crowded 1920s market, and Brody's second series entry (after Dying in the Wool) positions her for deserved attention. Her gentle and traditional structure (noteworthy use of flashbacks) pairs nicely with Kerry Greenwood (see review above) and Jacqueline Winspear titles." –Library Journal
"The traditional British mystery is alive and well, thanks in part to Frances Brody and her lady detective, Kate Shackleton… Kate is very adept at sizing people up and maximizing the information that she can get from them…I especially liked the number of curves the author threw in toward the end of the novel." –Mystery Scene

"Detective Kate Shackleton solves her second murder mystery in this fun, well-plotted mystery set in 1920s Harrogate… Brody presents us with a mystery full of lively characters and significant stories of both past and present. As Faulkner said, the past isn't dead. It isn't even past. Brody's mystery is expertly crafted and keeps the reader guessing right up until the last pages, as a good mystery should." –HistoricalNovelSociety.org
"More twists and turns than a country road. I hope that Ms. Brody writes more of these novels because I thoroughly enjoyed this one… I just had to keep reading so that I could try to figure out who the murderer was. I never knew until the last page and then I still wondered if they caught the real murderer." –NightOwlReviews.com
"These gentle crime novels, that have you guessing at every turn… are a pure joy.  Refreshing and highly entertaining, especially for the winter nights." – Yorkshire Gazette and Herald
"A Medal for Murder contains all the elements of crime fiction - theft, kidnap, murder, a feisty private detective, a handsome Detective Inspector, a (sometimes) dour sidekick, plenty of suspects and all the twists and turns we expect from our genre…. A work of extraordinary depth, lightness of touch and strength of characterisation." --Mystery Women
"[Kate Shackleton's] lively wit and intuitive abilities serve her well as she steps into the limelight of this drama filled with theft, deception, assumed identities, faked kidnapping, blackmail, and murder-- a veritable theatrical trunk full of mystery-plot props.  The author's period details-- including some flashbacks to the Boer War, involving incidents vital to the present-day plot-- add further historical flavor and thoroughly enhance Brody's show." --bookreviewsbydavidmarshalljames.blogspot.com
"The setting of A Medal for Murder is England in the 1920s, an idyllic time for crime solving. The right mix of mobility (motor cars) and technology (telephone and telegraph) keeps the story moving along at a pleasant place… The story line is enhanced by quips, fashion and social commentary and generally charming banter among the characters. Mystery fans not familiar with Ms. Brody's mystery series are encouraged to catch up post haste! Highly recommended." --http://josephsreviews.wordpress.com
"A Medal for Murder contains all the elements of crime fiction - theft, kidnap, murder, a feisty private detective, a handsome Detective Inspector, a (sometimes) dour sidekick, plenty of suspects and all the twists and turns we expect from our genre…. A work of extraordinary depth, lightness of touch and strength of characterization." --Mystery Women
"[Kate Shackleton's] lively wit and intuitive abilities serve her well as she steps into the limelight of this drama filled with theft, deception, assumed identities, faked kidnapping, blackmail, and murder-- a veritable theatrical trunk full of mystery-plot props.  The author's period details-- including some flashbacks to the Boer War, involving incidents vital to the present-day plot-- add further historical flavor and thoroughly enhance Brody's show." --bookreviewsbydavidmarshalljames.blogspot.com
Praise for Dying in the Wool
"The first in a planned series introduces a refreshingly complex heroine and adds a fine feeling for the postwar period." –Kirkus
"Brody, who has written historical fiction, presents a carefully researched setting, with accurate references to the popular culture of the day and clear explanations of the dyeing and weaving processes at the mill." --Booklist
"Reminiscent of Dorothy L. Sayers and Agatha Christie with a thoroughly likeable protagonist and a plot that held me to the end." --Mignon F. Ballard, author of the Miss Dimple Kilpatrick Mystery Series
"This well-plotted and atmospheric tale is enriched by technical expertise and a vividly imagined Yorkshire setting.  Kate Shackleton joins Jacqueline Winspear's
Maisie Dobbs in a sub-group of young female amateur detectives who survived and were matured by their wartime experiences…. They make excellent heroines." --Literary Review
or
Not Currently Available for Direct Purchase