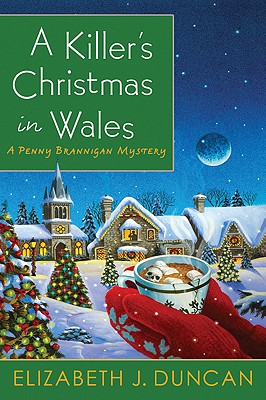 A Killer's Christmas in Wales (Hardcover)
Minotaur Books, 9780312622831, 274pp.
Publication Date: October 25, 2011
* Individual store prices may vary.
or
Not Currently Available for Direct Purchase
Description
As the townsfolk of the Welsh valley town of Llanelen settle in for the snowiest winter in twenty-five years, an American stranger arrives. Harry Saunders charms the ladies, one of them in particular: Evelyn Lloyd, the town's former postmistress, who was left comfortably off after the death of her husband. After Mrs. Lloyd invests a good deal of money with him, Harry goes missing, as does her money. His body is soon discovered outside the walls of Conwy Castle, and Mrs. Lloyd is implicated in the murder.
Although Penny Brannigan and her business partner, Victoria Hopkirk, are busy overseeing the grand opening of their new spa, that doesn't stop Mrs. Lloyd from desperately seeking Penny's help to prove her innocence. It's quite possible that Harry made other enemies while in Llanelen and Penny's investigation unfolds while she juggles her work at the spa, her growing relationship with Detective Inspector Davies, and the Christmas window competition that she signed up to judge.
With A Killer's Christmas in Wales, Elizabeth J. Duncan delivers a delightful holiday-themed mystery.
About the Author
Elizabeth J. Duncan is the first Canadian writer to win the Malice Domestic Best First Traditional Mystery Novel Competition for The Cold Light of Mourning. She has been a finalist for the Agatha and Arthur Ellis Awards. She enjoys spending time each year in North Wales and lives in Toronto with her dog, Dolly. She teaches in the public relations programs at Humber College.
Praise For A Killer's Christmas in Wales…
"Elizabeth J. Duncan's A Killer's Christmas in Wales (Minotaur Books), the latest in her Penny Branigan series, is a plum-pudding of a book for those of us who love comfy mysteries."—Alan Bradley, New York Times bestselling author and Agatha, Barry, Dilys, and Macavity Award winner

"Cozy fans will enjoy this light, quick read (and delight at fellow fictional crime solver Dorothy Martin's cameo over a quick manicure)."--Library Journal
"Readers who enjoy classic English mysteries will find lots to love about A Killer's Christmas in Wales....Duncan holds the interest of her readers with snappy dialogue and a well-plotted build-up.....Duncan excels at bringing her characters to life. The author's knack for adding just the right amount of backstory for each character is exceptional. A Killer's Christmas in Wales gives off an air of enchantment as Christmas finds this small village in Wales up to its eyeballs in mystery and mayhem."--Mystery Scene Magazine
"A delightfully intriguing, fast-paced cozy, à la Agatha Christie. Penny Brannigan, a type of Miss Marple, just happens to always stumble upon murders....I loved it. With its gorgeous, small-town setting; friendly, interesting characters; and baffling murders, it's a holiday cozy that is sure to please most everyone. A Killer's Christmas in Wales would make a great gift for the cozy lover. Reading it makes me wish I had also indulged myself with Duncan's previous Penny Brannigan mysteries."--Gumshoe
"If a cozy is your cup of tea, then A Killer's Christmas In Wales should be high on your Christmas shopping list."--Hamilton Spectator
Advertisement