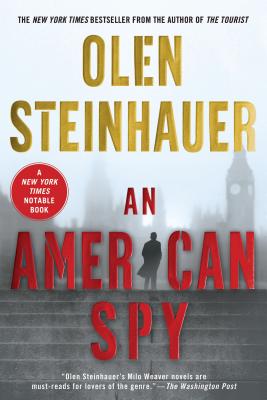 An American Spy (Paperback)
Minotaur Books, 9780312622909, 386pp.
Publication Date: October 16, 2012
Description
"Another must-read from the best novelist working today in the tradition of John le Carre." "Booklist" (starred)
In Olen Steinhauer's bestseller, "The Tourist," reluctant CIA agent Milo Weaver uncovered a conspiracy linking the Chinese government to the highest reaches of the American intelligence community, including his own Department of Tourism the most clandestine department in the Company. The shocking blowback arrived in the Hammett Award winning "The Nearest Exit" when the department was almost completely wiped out as the result of an even more insidious plot.
Following on the heels of these two spectacular "New York Times" bestsellers comes "An American Spy," Steinhauer's most outstanding thriller yet. With only a handful of "tourists" CIA-trained assassins left, Weaver would like to move on and use this as an opportunity to regain a normal life focused on his family. But his former boss, Alan Drummond, can't let it go. When Alan uses one of Milo's compromised aliases then disappears, calling all kinds of attention to himself, Milo must hunt him down.Worse still, it's beginning to look as if the department's enemies are gearing up for a final, fatal blow.
With "An American Spy," Olen Steinhauer, by far the best espionage writer in a generation, delivers a searing international thriller.
"An American Spy" is one of "The New York Times" Notable Books of 2012.
About the Author
OLEN STEINHAUER, the New York Times bestselling author of eight novels, is a two-time Edgar award finalist, a Dashiell Hammett award winner and has been shortlisted for the Anthony, the Macavity, the Ellis Peters Historical Dagger, the Ian Fleming Steel Dagger, and the Barry awards. Raised in Virginia, he lives in Budapest.
Praise For An American Spy…
Praise for An American Spy

"Stunning. . .Readers are irresistibly drawn into Weaver's dogged struggle to unravel a complicated game of cat and mouse. . .Steinhauer is at the top of his game—but when isn't he?"
—USA Today

"The action is lickety-split and spiked with exceedingly satisfying spy craft."
—The New York Times

"Not since Le Carre has a writer so vividly evoked the multilayered, multifaceted, deeply paranoid world of espionage, in which identities and allegiances are malleable and ever shifting, the mirrors of loyalty and betrayal reflecting one another to infinity. In this intensely clever, sometimes baffling book, it's never quite clear who is manipulating whom, and which side is up."
—The New York Times Book Review

"This ambitious, complex story spans the globe. Even when the intricacies of its plot are most challenging, we are fascinated and swept forward. Steinhauer has been likened to John le Carre and rightly so. Both men carry readers deep into a rival spy agency, one Soviet, one Chinese. . .Zhu may in time be to Weaver what the Soviet spymaster Karla was to le Carre's George Smiley. Olen Steinhauer's Milo Weaver novels are must-reads for lovers of the genre."
—The Washington Post
Advertisement